What are the Different Yarn Weights?
Standard yarn weights help ensure that crafters can achieve predictable and consistent results in their finished pieces. Yarn weight refers to the thickness of various yarns. The thicker the yarn, the thicker the knitting needles or crochet hook needed. Yarn weight may differ slightly between brands, but this difference is slight as yarns sold today are made in seven standard thicknesses. Lace, fingering, sport, worsted, heavy worsted, chunky and super-chunky are the seven yarn weights recognized worldwide.
Lace yarns are the thinnest type of yarn and they range from cotton to wool and silk blend varieties. Since the yarn is so thin or fine, stitch details show up very well. Beautiful lacy scarves and shawls can be created with lace yarn. Fingering yarn weights include baby and sock yarns and these can be used to create many types of infant outfits and socks for all ages. Yarn of fingering weight is about twice as thick as lace yarns and it's available in many varieties such as soft cashmere or economical acrylic.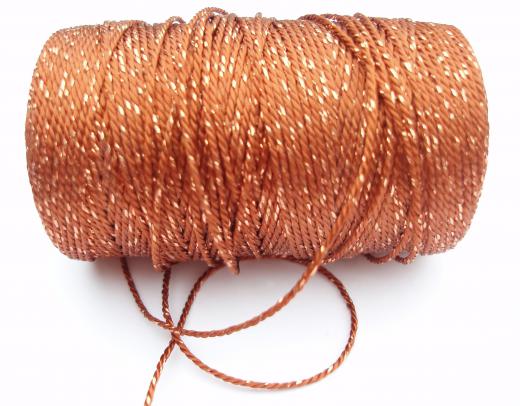 Sport yarn weights are also called double knitting (DK) and they are slightly thicker than fingering weight. DK is still thin enough to show stitch detail. It's popular for making knitted or crocheted baby outfits. Sport yarn is also popularly used to make sweaters that have a lot of stitch detail, but aren't heavy in weight. The name given to sport yarn has nothing to do with athletics, but rather is named after women's sportswear as the thickness of the finished pieces is similar to fabric used to create casual women's wear.
Worsted weight is the most common of the yarn weights. For example, stores that sell a variety of products and want to include one type of craft yarn will usually choose worsted weight as the type they carry. Worsted is considered the best thickness of yarn for beginning knitters to use as it's not too fine or too bulky to handle. This weight yarn is also available in inexpensive acrylics in a large variety of colors. Scarves, hats, mittens and afghans are popular worsted yarn projects.
Heavy worsted weight yarn is slightly heavier than regular worsted and it isn't commonly found. Heavy worsted yarn weights are usually sold as the cream-colored Aran yarn popular in Ireland and Scotland. Aran knitting involves many beautiful textures used to make many yarn projects such as sweaters and blankets.
Chunky or bulky yarn is about twice the thickness of worsted weight and two strands of worsted held together can usually be substituted for chunky. Yarns of this weight is the ideal thickness for making slippers, scarves, hats and heavier sweaters. This is also the weight popular for creating items for the home such as afghans, rugs and pillow covers. Super-chunky or super-bulky yarn weights can also be used to make home furnishing accessories, but due to the extra-large stitches created, it's not usually used for knitting or crocheting clothing pieces.
AS FEATURED ON:
AS FEATURED ON:

By: Anette Linnea Rasmus

Yarn.

By: Ekaterina Kolmakova

A skein of worsted weight yarn.

By: WINIKI

Sport weight yarn is considered ideal for making children's clothes.

By: kulikovan

Thin yarns and small gauge needs can make the most delicate crocheted fabrics.

By: Ivan Gulei

Sport weight yarn is the third thinnest yarn after lace and fingerling weight.

By: Ekaterina Lin

Yarn weight refers to the thickness of the yarn.

By: uwimages

Chunky yarns can be used to knit and crochet hats.