What Is the Best Way to Clean Hardwood Floors?
Hardwood floors are one of the easiest flooring types to keep clean. Unlike carpeting, hardwood floors require minimum maintenance and can last for many years. Clean hardwood floors that run throughout a house can make the house look both beautiful and spacious. Maintenance methods to clean hardwood floors should not differ among types, but some finishes may require extra care when removing stains.
The quickest and most effective way to clean hardwood floors is with a damp mop. Before mopping, make sure that you have removed all surface dust from the floor. This can be done with a soft broom or lightweight vacuum cleaner. Then, simply mop, rinse and repeat. It is important to remove grit and dirt from hardwood floors. Dirt and grit are the biggest enemies when it comes to scratching or scouring the floor finish.
There are many hardwood floor cleaners available, but a neutral cleanser (i.e., neither too low or too high a pH level) and water will do the job just as effectively. The hardwood floor must be properly sealed before any mopping. If there are worn patches, do not use water, as the liquid can penetrate the wood and cause warping.
Most hardwood floors are now finished using a surface finish called polyurethane. These floors look glossy and shiny. Polyurethane looks like a plastic coating over the wood and is extremely hard wearing. Another finish, called penetrating seals, consists of wax or oil finishes that penetrate the wood and protect from within.
You may wish to go that extra mile and finish off the mopping with a wax or polish. If you find that your clean hardwood floors still look dull, then buffing them with wax may help. It may take some extra elbow grease in order to clean hardwood floors in this way, but the end result will be worth it. Some people also use a floor polish to add a shine to the floors. If wax or polish is used regularly, there may be a problem with adhesion when it comes to recoating the hardwood floors.
All floors are susceptible to stains, whether they are hardwood or carpeted. A very fine steel wool can be used to remove a majority of the stains. A little alcohol can also be used to remove stains from clean hardwood floors. Finish off by polishing and buffing. If the stain remains, then sanding down the area may be the only option in order to remove it.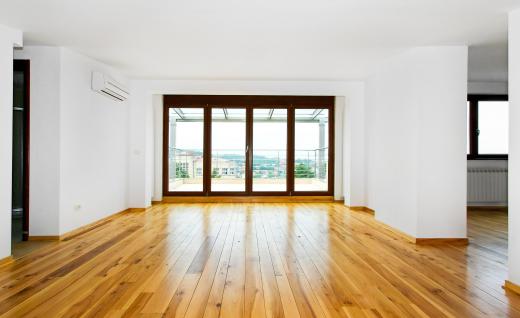 Depending on the amount of traffic in your house, you may only have to clean hardwood floors once a week. An extra precaution used in order to maintain clean hardwood floors may be to have people remove footwear when they enter the house. By doing this, you may limit the amount of heelmarks imprinted into the floors and the maintenance required in the future.
How to Clean Grime Off Hardwood Floors 
Hardwood floors can be a striking feature in a home, and keeping them clean will help to show their quality and have as much pop as possible. Like any flooring, over time hardwood floors can collect not only large amounts of dust but grime and stubborn residue from spills and the like.
Vacuuming First 
Before getting to the grime, start by vacuuming the floor to remove any dust or looser debris. This will ensure that when you use a mop you won't be spreading dirt around the room inadvertently in the process. If you're only cleaning a smaller, targeted area, then instead of vacuuming you can always just dust that area first.
Mopping 
Then, to clean the actual grime off of your floors, you'll need two things: a proper cleaning solution and a microfiber mop cloth.
If you want to make your own cleaning solution, you'll just need vinegar, dish soap and warm water. Fill a bucket with warm water and add just a little bit of vinegar and even less dish soap to keep the solution gentle enough for your floors. You can always use a store-bought hardwood floor cleaner as well, such as Pledge or Zep.
Using the solution you bought or made, dampen the microfiber mop cloth (or fill your mop dispenser with the solution) and begin mopping systematically starting from one corner of the space to another and then returning back and forth in an "s" motion. If there are any particularly difficult spots, you may need to dampen a separate microfiber cloth to gently but firmly remove the grime by hand.
How to Remove Wax Build Up on Hardwood Floors
If you have your hardwood floor coated (and re-coated periodically) with wax to help protect it, over time the applications of wax might cause a buildup that needs to be cleaned off to start fresh. Cleaning off the wax is a simple three-step process involving mineral spirits, steel wool and a mop.
Apply Mineral Spirits 
In order to remove the wax that has built up on your floor, start by applying mineral spirits to a white cloth and thoroughly wiping the hardwood floor. Keep cleaning the wax off in this way until you no longer see wax building up on the cloth. This can be tedious, so be sure to work in an organized way to keep track of your progress and maximize your time.
Use a Steel Wool Pad 
After cleaning the whole floor off with the cloth, apply more mineral spirits to a steel wool pad to go over the flooring again. Just apply the pad in a straight line that follows the grain of the wood, and be gentle so as not to damage the floor. The steel wool will help pick up any remaining bits of wax from the surface that the cloth may not have been able to get.
Mop with Hot Water 
Finally, when you feel good about having removed all of the wax, be sure to mop the whole area with hot water. You don't need to mix any cleaning solution into the water. Take care to use just enough water to give the floor a gentle cleaning so it'll be ready for a fresh application of wax.
How to Clean Hardwood Floors without Streaks 
An issue that many people run into when cleaning their floors (including hardwood) is that the cleaning process leaves streaks behind. These streaks can be frustrating because of their negative impact on the appearance of the floor and room, so getting rid of them (or avoiding them altogether) is important for maximizing the ultimate effectiveness of your cleaning.
Proper Mopping Method 
If you mop properly, you can avoid leaving a lot of streaks. Be careful not to let your mop get too wet, as a mop cloth that is sopping can leave puddles of excess water everywhere you mop. You simply want your mop to be damp enough to clean the floor without leaving streaks in the process.
Damp Microfiber Mop Cloth 
If you find that you finish mopping and there are streaks left behind, start by going over the entire floor one more time with a slightly damp microfiber mop cloth. Be sure to look at the floor from various heights and angles to make sure you can see all of the streaks as you're working.
Buffing with a Microfiber Cloth 
If you find particularly stubborn streaks that aren't coming out easily, you can use a dry microfiber cloth to buff them out. Again, microfiber cloths are both durable and efficient for cleaning as they require less help from cleaners and water to do the work. Try buffing in a circular motion until the streaks are gone.
AS FEATURED ON:
AS FEATURED ON:

A damp mop is a great way to clean a hardwood floor.

By: skala

Robotic floor cleaners can be used on hardwood floors.

Hardwood flooring.

By: Tatty

A house with hardwood flooring.

By: Wollwerth Imagery

Most hardwood floors are now finished using a polyurethane coat that looks glossy and shiny.

By: winston

Hardwood floors can be cleaned of dust and dry objects with a vacuum.