What is Worsted Weight Yarn?
Worsted weight yarn is a medium width, smooth yarn that is used for a wide range of knitting projects, especially sweaters, hats, and throws. This yarn is very popular with beginning knitters since it is easy to work with, and crafters can follow their stitches and patterns very easily when using it. It also yields smooth, warm end products with a hefty feel to them. Most knitting stores stock a range of these yarns, and people can also order a specifically desired yarn from a yarn company or spin their own.
The "weight" of yarn reflects how fine it is. Some yarns are extremely fine, such as the yarns used to make lace patterns and socks; these slender yarns may seem incredibly delicate, but they are actually quite sturdy once they are knitted or crocheted into a finished piece. Lightweight yarn is naturally physically lighter, since the strand of yarn is so fine, and products made with light yarns tend to be fine and lightweight as well. On the other end of the spectrum, chunky yarns are heavy, with a gauge of only a few stitches to the inch (2.5 cm), and they are used more in things like decorative scarves, hats, and jackets.
Worsted weight yarn falls somewhere in the middle of the spectrum, with a gauge of 16-20 stitches for every 4 inches (10 cm), depending on the size of the knitting needles or crochet hook used. This yarn is generally very easy to handle and work with, since it is smooth and it is of a width that feels very right in the hand. The smoothness of the yarn works very well for patterned knitting projects, since features like ribbing and cables really stand out when executed in worsted weight.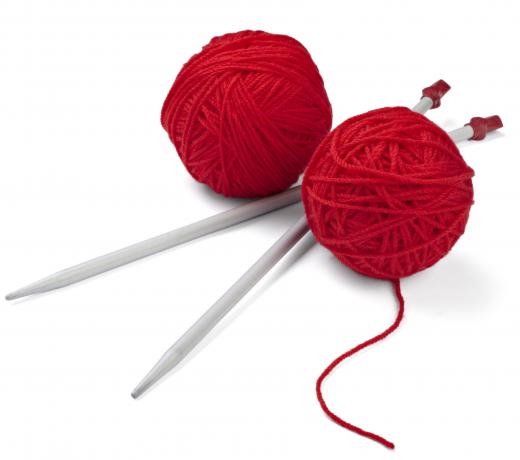 The yarn is named for the village of Worstead in Norfolk, England. As far back as the 12th century, this town was producing smooth, even yarn. The manufacturing process involves two important steps that contribute to the smoothness and tensile strength of the yarn. The first is the selection of long fibers, and the second is the combing of these fibers to make them straight and parallel. During the spinning process, the yarn is handled carefully to ensure that the fibers stay straight, which keeps the finished yarn very smooth.
Many yarn companies produce worsted weight yarn in both natural and artificial fibers, and a range of colors are available. While this yarn is an enduring favorite with beginners, many experienced knitters also work with it on a regular basis, since this yarn is so versatile.
AS FEATURED ON:
AS FEATURED ON:

By: Ekaterina Kolmakova

A skein of worsted weight yarn.

By: picsfive

Knitting needles and yarn.

By: praisaeng

Worsted weight yarn can is fairly easy to work with, and beginners love their vibrant colors.

By: Maryna Ivanova

Worsted yarn is used in a wide variety of of knitting projects.

By: Elenathewise

Worsted weight yarn is often used to make socks, due to its warmth.