What is Sport Weight Yarn?
Sport weight yarn is a fine weight of yarn used for knitting and crochet projects. Sometimes called double knitting (DK), it's the third thinnest yarn after lace and baby weight yarns, and just under worsted in thickness. This yarn is typically knitted with medium sized knitting needles and crocheted with a medium sized crochet hook. There are many different kinds of sport weight yarns, including acrylic, cotton, and alpaca.
The name of this yarn has nothing to do with athletics, but rather refers to the thickness of knitted or crocheted material it creates. The thickness of garments knitted with sport weight yarn is considered similar to the fabric associated with women's sportswear. It is a popular yarn for creating thin sweaters.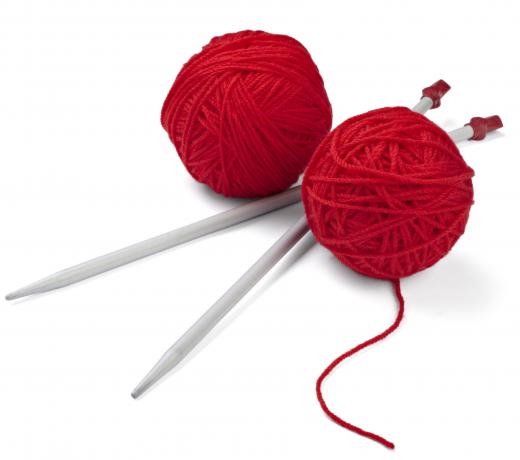 Lightweight blankets may also be knitted or crocheted in sport weight yarn. Although the yarn is heavier than baby weight, it's still popular for knitting and crocheting baby outfits, and it's sometimes sold as sport weight baby yarn. Novelty sport yarns often have flecks of texture and color added to a solid background. The yarn is also a good pick for knitting or crocheting dog sweaters and a variety of doll clothes.
Acrylic sport weight yarn is the most economical type, and it's considered practical for knitting children's wear, as it tends to be tougher than yarns made from natural materials. For softness, though, sport weight baby alpaca is the best option. Alpacas are animals in the same family as camels and llamas, and alpaca yarn from the first shearing of the animal is the softest. It's called baby alpaca because of its fine, soft texture.
Organic cotton yarn is often available in sport weight. It's made from cotton grown without pesticides and in many cases without dyes, so organic sports weight cotton yarn is considered an eco-friendly choice. Natural cotton colors can be extremely beautiful shades of brown, tan and white. Good quality organic sport weight yarn can be machine washed in the cold, gentle cycle of a washer and dried on the low heat setting of the dryer. Some shrinking may occur and this may affect the finished knitted or crocheted item, so yarn labels should be carefully checked.
AS FEATURED ON:
AS FEATURED ON:

By: picsfive

Sports weight yarn is the third thinnest yarn.

By: Artem Furman

Sport weight yarn can make very comfortable socks.

By: Ivan Gulei

Knitting thin sweaters out of sports weight yarn has become a popular hobby.

By: WINIKI

Because it is made from tougher materials, sport weight yarn is considered ideal for making children's clothes.

By: Barbara Helgason

Sport weight yarn is good for making dog sweaters.

By: kulikovan

Thin yarn, like sport weight yarn, can be used to create lighter weight fabrics.