Aran yarn is yarn of a medium weight that is usually slightly thicker than worsted weight yarn. Yarn weight is determined by how thick the individual strand of yarn is. Like worsted weight yarn, aran yarn is often a popular choice among knitters and other fiber artists, as it is fairly versatile due to its medium weight and may be used to craft many different types of garments, housewares, or accessories. Aran weight yarns are usually available at yarn stores or craft stores in a variety of color and fiber selections.
The name of aran yarn probably comes from the Aran sweater traditionally knit on the Aran Islands, a group of three islands located off the west coast of Ireland. An Aran sweater is a heavy wool pullover that is usually knit with a complex cable pattern that covers the front, back, and sleeves of the sweater. Traditionally, the yarn used to knit these pullovers was a thick, naturally colored, hand spun wool yarn. The yarn was left unwashed to preserve a natural oil called lanolin, making the garments somewhat waterproof for the benefit of the fishermen who often wore them.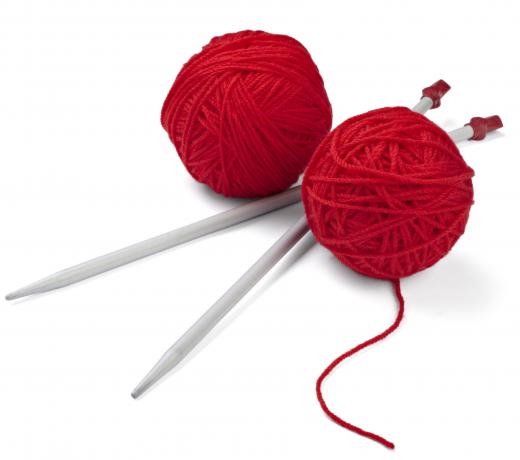 Aran yarn is also sometimes referred to as "heavy worsted," because it is thicker than worsted weight yarn but thinner than bulky weight. Most yarns that qualify as aran weight will knit or crochet at a gauge of 16-18 stitches per four inches (10.16 cm) of knit or crocheted fabric, and wrap around a ruler eight times within one inch (2.54 cm). However, some aran weight yarns are thinner and closer to worsted weight, while others are much heavier and closer to bulky weight. Some yarn retailers do not distinguish between worsted and aran yarn at all, and do not stock them separately. To determine how heavy a specific aran yarn is, many fiber artists will make a gauge swatch, a small square sample piece that demonstrates the number of stitches per inch there are in the finished fabric, using the chosen yarn, stitch pattern, and appropriately sized knitting needles or crochet hook.
This yarn weight can be used to knit or crochet a wide number of projects, such as scarves, shawls, gloves, hats, bags, and sweaters for children or adults. However, the medium to heavy weight fabric it produces when knit or crocheted may not be ideal for lightweight garments intended for warm weather wear. Aran yarn is usually available in many different fiber blends and may be made from any type of animal, plant or synthetic fiber. It may be naturally colored or dyed using food dyes, natural dyes, or acid dyes.
AS FEATURED ON:
AS FEATURED ON:

By: picsfive

Knitting needles and yarn.

By: Maryna Ivanova

Aran yarn is popularly used by knitters and fiber artists.

By: uwimages

Aran yarn can be used to knit or crochet hats for children or adults.

By: micromonkey

Aran yarn is a thicker yarn intended for cold weather garments.

By: Michele Sacchetti

The versatility of Aran yarn makes it ideal for garments, housewares, and accessories.