An afghan is the knitted or crocheted blanket everyone has seen thrown over the back of a rocking chair or folded at the foot of Grandmother's bed. Afghans are often given as gifts and may become family heirlooms. Many people use an afghan as a throw on a chilly day, as a bedspread, or as decoration for the back of a chair. An afghan also makes a good three-season blanket, adding warmth without a lot of weight.
An afghan derives its name, in all likelihood, from its resemblance to Afghan Oriental rugs. Many afghans have geometric stripes and patterns, worked in bright colors, just as Afghan rugs have. No one is positive that this is where the name comes from, but it is a pretty good guess.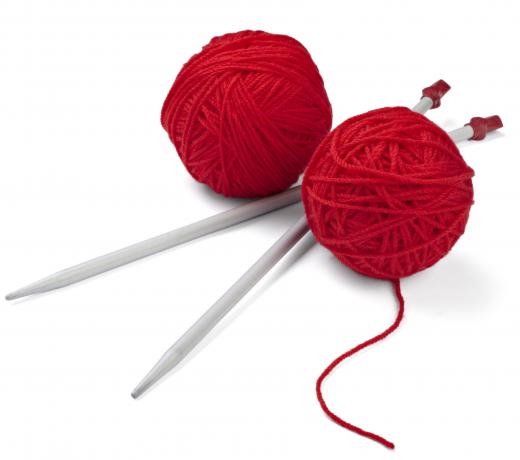 Many people who are learning to crochet or knit make an afghan as their first "big" project. This is because the construction is usually straightforward and requires only basic stitches. More elaborate patterns exist, of course, but making a simple afghan is a good way to master the basic stitches and techniques.
There are many popular afghan patterns, whether they are crocheted or knitted. The chevron stripe is a good beginning crochet pattern, and a block stripe is good for beginning knitters. A lovely afghan can also be made using only single crochet, either in a solid color or in stripes. A granny square afghan is another popular pattern, and can be either knitted or crocheted. The granny square may be made of squares or rounds, worked as single units and then joined together in designs. Squares are usually bound on all sides, while rounds are generally joined by thin threads of knit or crochet work, creating a lacy look. Afghans made from rounds are usually more decorative than functional.
Any afghan pattern will give the number of skeins of yarn needed to make the blanket and the size of crochet hooks or knitting needles. The crafter needs to pay careful attention to this information, so that the afghan will be of the desired size when finished. Buying yarn all at once is a good idea as well. If a crafter waits to buy more yarn, the skeins may have the same color printed on the sleeve, but may be of different dye lots. The colors could be subtly different.
Working an afghan is a satisfying way to learn a new skill and create something useful and beautiful at the same time.
AS FEATURED ON:
AS FEATURED ON:

By: picsfive

An afghan blanket is typically knitted or crocheted.

By: eleonora_os

An afghan is a knitted or crocheted blanket, and many are considered to be family heirlooms.

By: Arienne McCracken

Many afghans, which are knitted or crocheted, have patterns like ripples.

By: kulikovan

Afghans can be crocheted in separated pieces and then stitched together.