What Are the Different Types of Hardwood Floor Finishes?
Hardwood floors are made with a variety of finishes, including oiled-based finishes and water-based finishes. A hardwood floor made with an oil-based finish is generally more stain and scuff resistant than a wood floor with a water-based polyurethane finish. Acid-based urethane finishes are durable, yet emit very powerful fumes. Natural, environmentally friendly hardwood floors are typically plant and mineral based, although some may be wax based, as well. Prefinished flooring is another option that does not require additional treatment.
Hardwood floor finishes may be purchased at many home improvement stores. Polyurethane is a common, oil-modified hardwood floor finish that typically takes about 10-14 hours to thoroughly dry. This type of finish is tough and long lasting, and often recommended for high-traffic areas. Those with children and pets may find this finish to be a good choice, as it is also resistant to stains.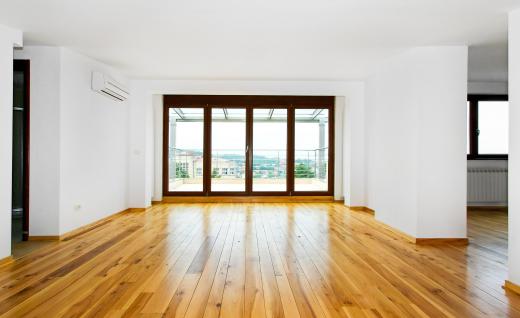 An acid-curing hardwood floor finish is generally fast drying. This type of finish is appropriate for many varieties of hardwood floors. Acid-based hardwood floor finishes add sheen and depth of color without casting an unnatural yellow tint. The high-gloss variety will add the most luster and shine, while semi-gloss adds a slight gloss coating. A matte variety is also available in an acid-based finish.
Water-based hardwood floor finishes are used for various floor types. As the water in the application evaporates, the finish will dry. With water-based applications, three or more coats are recommended for the best results. One appeal of the water-based hardwood floor finishes is that they do not change the natural color of the wood. These finishes are typically fast drying and emit no harsh fumes.
There are also environmentally friendly choices for hardwood floor finishing. These floor finishes, often referred to as green products, will protect the hardwood floor surface while being non-toxic. Soy-based satin type finishes are one such choice. A finish made with natural tung oil also is considered safe and non-toxic. The environmentally safe finishes will contain no metals, such as zinc.
Some hardwood floor finishes also come in a touch-up application. These are generally available as a spray. Spray touch-up hardwood floor finishing products are recommended for periodic use to maintain the quality of the finish.
AS FEATURED ON:
AS FEATURED ON:

By: Tatty

A house with hardwood flooring.

By: Wollwerth Imagery

Most hardwood floors are now finished using a polyurethane coat that looks glossy and shiny.

By: vvoe

Hard wood floors can be treated with water- or oil-based finishes, as well as various varnishes or lacquers.