A coverlet is a type of lightweight bedspread that may be woven or quilted. Classically, these blankets are primarily decorative and designed to cover layers of thicker bedding. They may also be used on their own as throw blankets, and their light weight makes them suitable as picnic blankets, as well. Most department stores carry a range of coverlets, as do stores that specialize in bedding, and it is also possible to find unique ones in stores that carry imported ethnic crafts.
The term "coverlet" is derived from the Old French covrir, which means "to cover," and lit, for "bed" — literally, it is a bed cover. People may also hear one referred to as a coverlid. People have been using them for quite a long time, but the art of crafting decorative ones really began to flourish in the 19th century. Today, some people prefer to use duvets, more heavy weight bedspreads that provide warmth as well as decoration, to reduce the number of layers on their beds.
Woven bedspreads typically have raised and colored designs that are often symmetrical and geometric in nature, though not always. Because people do not come into direct contact with a coverlet, woven ones may be made from coarse, scratchy materials, as the texture is not terribly important. This type is also extremely light, providing little in the way of insulation, because it's primary purpose is decoration. Historically, lightweight wool has been a popular choice, but silk, linen, cotton, and other fibers may be used as well.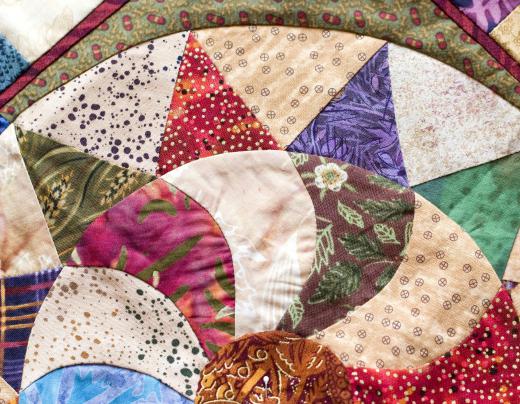 Quilted ones are very thin, with a slender layer of batting between the layers. Any number of quilt patterns can be used, ranging from friendship quilts to simple geometric designs. The quilting may be highly decorative in nature, often showcasing special stitches and unique fabrics because the blanket will be visible at all times.
Some people collect antique coverlets, hanging them on rods as decorative artifacts. When people do decide to hang an antique, they may want to consider sewing tabs onto it to avoid putting stress directly on the fabric; these tabs should be placed carefully so that they create a minimum of damage. It is also a good idea for people to store antiques out of direct light and to launder them carefully to prevent fraying, running of dyes, or tearing.
AS FEATURED ON:
AS FEATURED ON:

By: Paul Vinten

A coverlet is a lightweight cover for the bed.

By: Catherine Jones

Coverlets can be quilted with just a small amount of batting between the layers.

By: Viktor

A coverlet can be used independently as a throw blanket.