Sewing is a craft that involves stitching fabrics together either with a needle and thread by hand or with a machine. Although it's a needle craft, it differs from knitting, crocheting, needlepoint, cross stitch, embroidery, and the like because it's not decorative, but rather constructive. After paper patterns are pinned into place on fabric and cut out, they are sewn together to create a finished garment or other item. Sewing can also be done without a pattern or to create temporary stitches or to repair previously sewn items.
If a thread becomes loose in a sewn item, the stitches may unravel and require restitching to repair them. In repair sewing, pulling the threaded needle in and out of the fabric at the same lengths and places as the other remaining stitches can make a repair nearly invisible. Replacing a missing button on a garment follows the same procedure, although there are different possible ways to place the thread to sew on a button. While repairs are usually sewn by hand, most garments are created using a machine, which can range from simple to complex.
Some sewing machines do intricate stitches in addition to basic construction stitching, such as embroidered decorative details. Though to sew is to attach fabric pieces together with stitches, to embroider is to stitch in order to embellish or decorate the piece. When people sew items on a machine, they often still do some hand stitching. For example, basting is done by hand using larger, widely spaced stitches to hold two pieces of fabric together temporarily. This way, the pieces can stay together as the permanent stitches are being added.
Often taught in school in home economics classes, sewing may be simple or complex, depending on how detailed of a pattern is involved. In general, pants are more difficult to make than tops, although blouses with buttonholes or contoured seaming are not beginner projects. Beginner projects often considered simple to sew include an apron, elastic waist skirt, pillow cover, and t-shirt style top.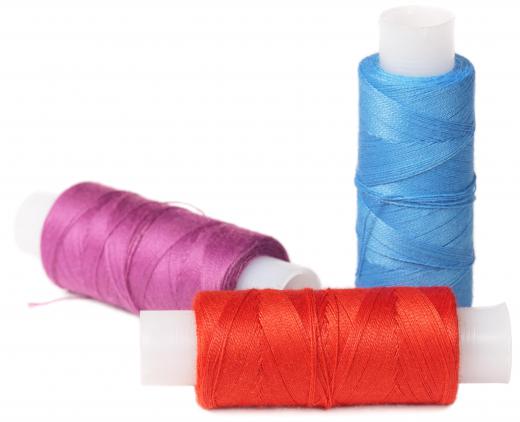 Heirloom sewing, which is the creation of special occasion clothing for adults and children, is an example of advanced techniques in the craft. Often, an heirloom piece includes a complexly sewn feature such as gathered, stitched smocking on the front of a child's dress. Another factor that makes heirloom projects difficult to sew is the types of fabrics typically used. Expensive, difficult fabrics to work with such as silk, satin, and sequined fabric are often used in this type of stitching.
AS FEATURED ON:
AS FEATURED ON:

A person sewing.

By: Moreno Soppelsa

Embroidery, which could be done with an industrial machine or even by hand, is decorative, whereas sewing is constructive.

By: Carlson

Three spools of thread.

By: Unclesam

Satin is expensive and difficult to work with.

By: Robert Kneschke

Patterns are commonly used in sewing.

By: South12th

Embroidery is decorative, not constructive like sewing is.