A throw blanket is a medium sized-blanket, usually about 3 by 5 feet (0.91 by 1.52 m). They can, however, vary in size. This blanket is distinguishable from other blankets because it is edged with fringe, making it one of the more decorative blankets you can use in home decor.
The throw blanket can be made of 100% cotton, cotton-poly blend, or rayon. The rayon chenille blanket is quite popular at the moment, but does not exhibit the same durability as a cotton throw through numerous washings. One made of rayon is often most attractive however, and tends to be less expensive than 100% cotton versions.
With cotton blankets, observing the washing instructions is important. Some are pre-shrunk and only get softer and better with numerous trips through the washing machine and dryer. Others may shrink, and as well, a brightly colored cotton throw blanket may fade over time.
The throw blanket comes in a variety of colors and designs. During the Christmas and Hanukkah holidays, one may find them in holiday-themed designs. Depending upon size, they can decorate the home by being artistically draped over simple chairs or tables, and can also make excellent Christmas tree skirts. One can also find throws year round with varied decorations. Kids may enjoy a book or cartoon-themed blanket, while adults might decorate their rooms with artistically woven lighthouses, trees or forest scenes.
One can get creative with these blankets. They make excellent wall hangings, or they can enliven the dull colors of a couch. One can also use them to protect couch or chair cushions that resist cleaning.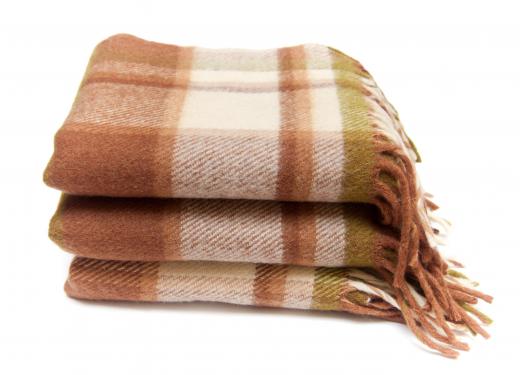 A thick cotton throw blanket is great for outdoor use as well. It is easily portable, and provides the perfect warmth for night sporting events. It also makes an excellent spread for picnics in damp grasses, as it tends to resist dampness, particularly if it is thick. Or one can use a thinner blanket, with a waterproof sheet beneath, to add style to a picnic.
Many enjoy using cotton throws for baby blankets, as they usually are the perfect size for cribs. They also can provide light warmth for any member of the family. As used in living rooms and family rooms, a throw blanket is the perfect covering for an afternoon nap. Its advantage over a regular blanket is that it can quickly be spread out again in whatever arrangement one prefers after serving its purpose of providing warmth.
AS FEATURED ON:
AS FEATURED ON:

By: Viktor

A throw blanket can serve as an accent color on a couch.

By: andrej_sv

Throw blankets have fringe along the edges.

By: eleonora_os

Throw blankets are often used in a baby's bed due to their size.

By: Stephen VanHorn

Chenille blankets are popular, but not as durable as cotton throws.

By: Arienne McCracken

Afghans are often used as throw blankets.