What are the Different Types of Wall Hangings?
There are many different types of wall hangings. Some of the more common are wall art, tapestries and mirrors. Framed photos, sconces, baskets and vinyl images are other kinds. There are so many different types, styles and designs of wall hangings that there is one for virtually every style of home decor.
Wall art is probably the most common type of wall hanging. Paintings and prints come in every genre from country folk art to Tuscan to abstract themes. Paintings and prints come in many different sizes and are usually framed. Some of the most common places to hang wall art are above fireplaces, beds and couches.
Tapestries are wall hangings that are made of woven-material. Unlike wall art, tapestries are usually not framed but hang from a rod that is attached to the top portion of the tapestry. There are a multitude of scenes depicted in tapestries, including seascapes, floral, and landscapes. Tapestries can be found in all sizes but are often quite large, making them ideal for hanging on a large wall space, such as the wall in a two-story foyer.
Mirrors come in a variety of shapes, sizes and designs and can be hung in almost any room. They can be used to accent other wall hangings or as the focal point, and they can be framed or unframed, with straight or beveled edges. Some mirrors are etched, featuring a design on the mirrored surface.
Metal wall hangings have become a popular decorating trend. Iron and aluminum are the most common metals used. There are several styles of metal art including plaques, panels, and grills. Wrought iron is often used for making abstract art and wall sconces as well as for framing mirrors and clocks. Metal wall art can be flat but can also be twisted into a scroll shape or have decorative twists and turns tied together within a framed metal border.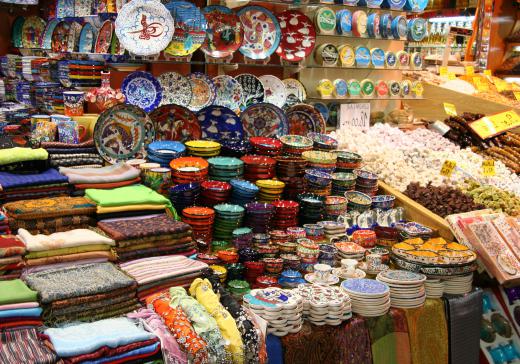 Another popular trend in wall decor is vinyl wall art. Vinyl is easy to apply and can be removed without damaging the wall or a painted surface. Stickers made of vinyl are available in just about every color. Letters, phrases, polka dots, and images are just a few of the possibilities vinyl art has to offer, making it a popular and easy way to decorate any room.
Framed pictures, in matching or unmatching frames, can be displayed in a grouping on a wall. A single framed picture, such as a wedding portrait, can be used as a decorative focal point in a room with wall sconces, metal wall art or vinyl lettering as an accent. Framed pictures can be used to display photos of children, a favorite family vacation, or other family photos.
Baskets, wall sconces, and silk floral arrangements are other types off wall art. They all come in a variety of styles and can be used as the focal point or an accent in any room.
AS FEATURED ON:
AS FEATURED ON:

By: imtmphoto

Family photos can be framed to create a wall hanging.

By: Darren Baker

Framed pictures can be used to display photos of a favorite family vacation.

By: Michele Sacchetti

Types of wall hangings range from metal art, to cloth tapestries, and can be found in a variety of places.