What are the Different Types of Mahogany Furniture?
Mahogany is a medium to dark brown wood with a pink or maroon cast to it. It's considered beautiful for furniture making as it has a rich, even graining. Mahogany furniture, especially formal dining tables, was made in England as early as the 1730s from imported wood. The United States was known for its finely crafted mahogany dining cabinets in the 1760s. Mahogany furniture is available in many different styles suitable for every room in a home.
Antique mahogany dining room furniture is often simple-lined rather than overly ornate in style. Some antique dining tables such as Georgian 18th-century mahogany furniture styles feature an oval shape and legs that taper out gracefully — similar to tree branches. Queen Anne style mahogany dining chairs often have three curved, flat posts on the backrest and the legs may have a slight curve.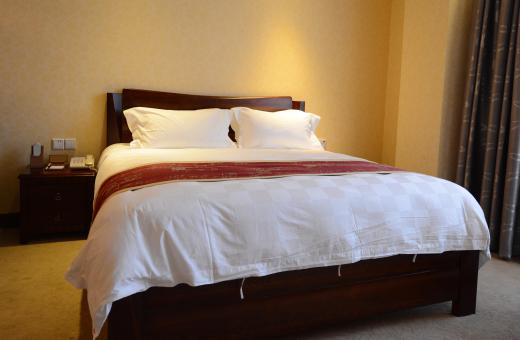 Pedestal mahogany dining tables have a single, thick base and often feature a round wood top. A modern style of mahogany dining table may have an openwork frame base that supports a glass top, although most mahogany furniture is still made in classic styles. For example, many mahogany chests of drawers have brass plates with drawer pulls attached.
Mahogany bedroom furniture may feature hand-carved accents. Sleigh bed style mahogany furniture often has carved, rounded or rolled head and footboards. Sleigh beds are named for their resemblance to rounded types of old-fashioned wood sleds. English mahogany cannon ball beds have round ball-shaped caps or finials on the bedposts. French mahogany armoires often feature rounded center top portions, while Colonial styles of tall, door-fronted storage cabinets may have flat tops.
Mahogany storage armoires can also be used in living rooms to hide clutter and give the room a neat appearance. Some classic style sofas have mahogany wood trim and these may be part of a set of mahogany furniture that includes coffee and end tables. Some mahogany living room tables are the nesting type, which means a set of three or four tables that each fit underneath one slightly larger table. These are space-saving tables that can be separated for use in other rooms in the home or used in the living room such as for serving tea and snacks to guests. The legs on coffee and end table mahogany furniture may be beautifully turned and vase-shaped.
AS FEATURED ON:
AS FEATURED ON:

By: xy

Mahogany is sometimes used for bedroom furniture.

Rocking chairs may be made of mahogany.