What are the Different Types of Kids' Wall Murals?
Some of the various types of kids' wall murals include nursery room murals designed with an infant theme, and hand-painted fantasy themed wall decor. Kids' murals may also include glitter-style wall stickers or peel-and-stick decals that are easily removed and reusable. Many kids' murals feature colorful cartoon characters.
Other types of kids' wall murals are also used for adult rooms. These include faux-finish murals created with faux-finishing techniques. Faux finish kits typically come with instructions for completing one of many designs for a kids' mural. These type of murals create an illusion of other materials such as brick, wood,or marble by using various painting techniques.
There are many other options for decorating a child's room with wall murals. Some of the simpler versions involve using stencils to create patterns, designs, or characters. A stencil can be used to hand trace the outline of a design or scene. After the stencil drawing is completed, it will usually be hand painted.
Wall stickers or peel-and-stick decals may be used to create a kids' wall mural. These can be arranged in various ways to cover a large portion of wall or simply cover a small area. Most of the stickers and decals that can be purchased as sets will not harm the painted surface of a wall. These can easily be relocated and reused.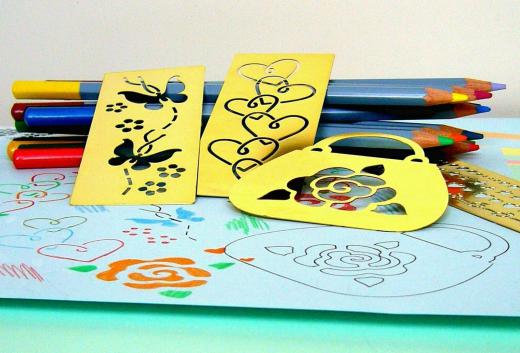 Kids' wall murals depicting nature themes are generally popular with older children. Beach and jungle scenes can be made into a colorful children's mural. Some other types include paintings of butterflies, which are a popular choice for young girls. Murals done with a space theme, such as the solar system, are often preferred by boys.
Mystical or fantasy designs are other popular designs for kids' wall murals. An example might be a colorful unicorn painting or a sprite. Some of these also incorporate wild animals such as tigers and elephants into the mural's design. Dinosaurs are another style many children prefer.
Sports-themed kids' wall murals are another option. Some murals may depict one sport or showcase several sports. Basketball, baseball, football, and soccer are some choices for a sports-themed mural for a kid's bedroom.
Cartoon character wall murals and those with a Noah's arc theme are other choices that might work well in a young child's room. In some of these designs, the main focus might be a specific character from a popular children's cartoon, accompanied by a backdrop of various scenes. Some murals may combine several cartoon characters into one spacious wall mural.
AS FEATURED ON:
AS FEATURED ON:

By: Petro Feketa

Paint-by-numbers murals are popular for children's rooms.

By: Shirley Hirst

Kids might use stencils to create different patterns when creating wall murals.

By: Myst

Wall murals might feature characters from a child's favorite cartoon.

By: angellodeco

Kids may use glow-in-the-dark paint when creating wall murals.

By: Dusan Kostic

A child who is active in youth athletic leagues may want a sports-themed wall mural.

By: Rob

Paint may be used to apply wall decor letters.