A stencil is a template for transferring a pattern. Stencils are usually made from a thin sheet of material. Some stencils are made to transfer a single pattern and others, like alphabet or lettering stencils, may include a unified set of patterns for transfer.
A positive stencil is used to transfer the body of the pattern. In positive stencils, a hole in the shape of the pattern is cut in the templates. Applying paint, ink, or another agent through the hole, results in a positive view of the pattern. Negative stencils are used to transfer everything but the pattern, i.e., the space around and/or within it, thereby showing the pattern. Negative stencils are the shape of the pattern itself, and paint is applied all around them, so that the pattern is the only thing not painted.
Stencils for paint or ink are used in lettering signs, in print-making, in creating decorative borders or other architectural ornament, silkscreening or serigraphy, and pochoir. Silkscreening or serigraphy is printmaking technique using stencils in combination with forcing ink through a fine mesh. Pochoir is a print made through the use of stencils. The technique was used primarily in the late nineteenth and early twentieth century in order to reproduce original art works, notably some of Matisse's works.
A group of tools referred to in office supply stores as templates are stencils designed to be used with a writing tool, rather than paint. French curves and erasing shields are two examples. Others are identified by their users—architect template, content—circle template, field of endeavor—flowchart template, or simply provide a wide range of patterns for varied use.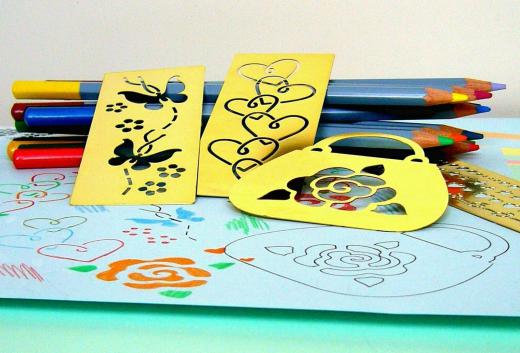 The famous and mysterious graffiti artist known as Banksy uses stencils in the creation of his artwork. Stencil art enjoys a special popularity in Melbourne, Australia. In 2007, the National Gallery of Australia in Canberra has purchased nearly 300 examples of Melbourne stencil art for their collection, by well-known street artists such as Dlux, HaHa, Marcsta, and Vexta.
The use of stencils is not restricted to the visual arts. Tolstoy uses the analogy of a stencil to characterize a military campaign in his famous novel War and Peace:
"Amid a long series of unexecuted orders of Napoleon's one series, for the campaign of 1812, was carried out - not because those orders differed in any way from the other, unexecuted orders but because they coincided with the course of events that led the French army into Russia; just as in stencil work this or that figure comes out not because the color was laid on from this side or in that way, but because it was laid on from all sides over the figure cut in the stencil."
AS FEATURED ON:
AS FEATURED ON:

By: Hugh O'Neill

Number and letter stencils such as these are used in lettering signs.

By: Shariff Che'Lah

Stencils have many uses including making shapes in coffee.

By: Shirley Hirst

Shape stencils with colored pencils used for an arts and crafts project.

By: Tupungato

Stencil art enjoys a special popularity in Melbourne, Australia.