What are the Different Types of Cherry Wood Furniture?
Cherry wood furniture is popular in today's homes. Cherry is a strong, top-quality furniture wood with a beautiful red undertone. It's available in light or dark wood colors, but also darkens with age. This darkening quality makes cherry wood furniture even more beautiful over time. Both modern and traditional styles of cherry furniture are available in many types of beautiful pieces for every room in the home.
Dark cherry wood bedroom furniture can look elegant and rich. Antique dark cherry beds may be elaborately carved and sold in a set with coordinating chests of drawers and night tables. Light cherry slat beds feature slats or posts of wood on both the headboard and footboard. Modern bedroom sets feature clean lines and may have stainless steel or nickel drawer pulls rather than the brass types seen on traditional cherry wood dressers. Accent pieces of cherry wood furniture such as bookcases are available in light or dark finishes and can be added to bedroom sets to create extra storage.
Armoires, or large closed-door free-standing cabinets, are versatile types of cherry wood furniture as they can provide convenient, attractive storage in bedrooms, living rooms or even in hallways. Since armoires are tall pieces, a dark cherry armoire can look elegantly dramatic. Lighter finishes of cherry wood armoires tend to add a more informal look to a room, but also add more warmth as light cherry shows the red undertone more strongly that dark varieties.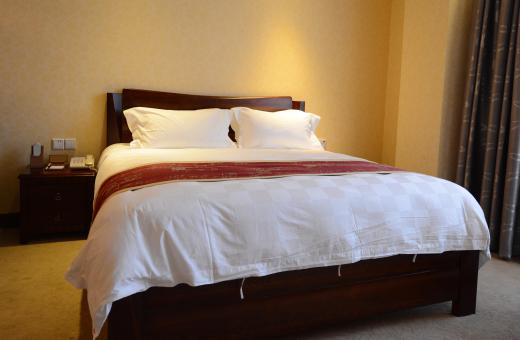 Cherry wood furniture in a home office can look glamorous. Modern desks and storage pieces suit contemporary home décor, while traditional cherry wood office furniture is a better choice for more classic homes. Traditional cherry desks are often large and heavy with many drawers, while modern computer desks are often more compact and may be lighter in color. Some modern cherry desks are modular units that may be combined in different ways such as a rectangular desk section with a rounded storage piece and a desk hutch storage cupboard used together to form one unit.
Dining room furniture made from dark cherry wood can give a formal beauty to dining rooms. Lighter cherry wood dining table and cabinet sets can create a warm, inviting dining space. Many types of cherry dining tables have a pedestal base. Cherry wood furniture for living rooms includes both traditional and modern styles of tables as well as upholstered sofas with cherry trim. Cherry wood Shaker slat couches and loveseats were designed in 1774 by English settlers in the United States, but since Shaker pieces are both all wood and straight-lined, they may work with both traditional and modern decor styles.
AS FEATURED ON:
AS FEATURED ON:

By: ArenaCreative

Cherry wood can be light or dark and has a red undertone.

By: xy

Dark cherry wood can grow more beautiful over time.

By: jojjik

Entertainment centers may be made from cherry wood.