A dresser is a piece of furniture. The term has a long history and has had several different meanings throughout its history. Originally, a dresser was a piece of furniture for use in the dining rooms of the wealthy. The use of the term has shifted over time, and it now generally refers to a piece of bedroom furniture, either a dressing table or a large chest of drawers, that holds clothing.
Early dressers were designed to hold useful sundries that might come in handy during the course of a long meal for the rich and powerful. They might have held dishes waiting to be served or other small items that the noble dinner guests might have desired. The use of these dressers spread gradually downward throughout the social orders as the Industrial Revolution brought additional wealth to many in the rising middle classes, who sought to assume the lifestyles and manners of the old elite.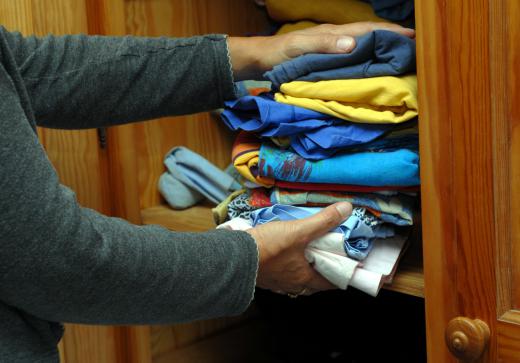 In European usage, the term dresser still often denotes a piece of furniture meant to serve as a sideboard and display rack in a dining area. This type of dresser typically includes a flat surface at approximately table height, for use either as a display space or as work and storage space for use during meals. Such dressers also usually include raised shelves, which are suitable for the display of decorative dishes and assorted small items.
The dresser, with a combination of display and work space, proved to be a very useful piece of furniture, and dressers were adapted for use in other rooms of the home. Such pieces of furniture were swiftly modified to serve as bedroom accessories. These bedroom dressers could hold a good selection of personal effects, and provided space to display prized personal possessions.
A typical bedroom dresser included storage space for smaller pieces of clothing and for personal effects. Larger pieces of clothing were generally stored in upright standing wardrobes or in chests. Some dressers were modified to stand taller, but simple models with three or four drawers with a mirror and work or storage space on top were most common.
Wardrobes have largely vanished from modern homes, especially in North America. They have been replaced by larger closets and larger dressers. American dressers often have much more storage space and are used to hold a wide variety of clothing. A mirror is still usually associated with dressers in the Americas, although in more utilitarian models, this mirror may be a tiny one that is simply affixed to the wall behind the dresser itself.
AS FEATURED ON:
AS FEATURED ON:

By: Richard Villalon

A typical bedroom dresser included storage space for smaller pieces of clothing and for personal effects.

Clothes and other possessions can be kept in a storage dresser.