Which Home Appliances Use the Most Energy?
When considering the energy consumption of a household, home appliances account for a large portion of energy usage. The energy consumption of a typical household includes lighting, cooling and heating, and appliances. While the total energy consumption of all appliances is typically less than lighting and temperature control in a year's time, many household appliances use a significant amount of energy.
The two most energy-consuming home appliances are the refrigerator and the clothes dryer. The refrigerator is always on although it consumes the most energy when the compressor cycles on to maintain the proper temperatures. Clothes dryers do not remain on, but when they are in use they consume a lot of energy. Though energy costs and types vary by location and type of dryer, the typical clothes dryer averages $85.00 US Dollars (USD) annually to operate.
Other high-energy usage household appliances include ovens, microwaves, water heaters, automatic dishwashers and stove tops. Generally, machines that are used to create heat — or in the refrigerator's case remove heat — use the most energy. Smaller home appliances including coffee pots, toasters, and fans consume less energy overall, but the actual usage of any appliance depends greatly on its frequency of use.
You can reduce the energy usage of home appliances by using them wisely and by replacing older, out of date models with newer, energy efficient models. Because heating and cooling is a huge source of energy consumption, replacing an inefficient furnace or air conditioning unit will save the most energy and money. When purchasing new appliances, you can compare their energy efficiency by checking the yellow tag that displays the appliance's energy rating.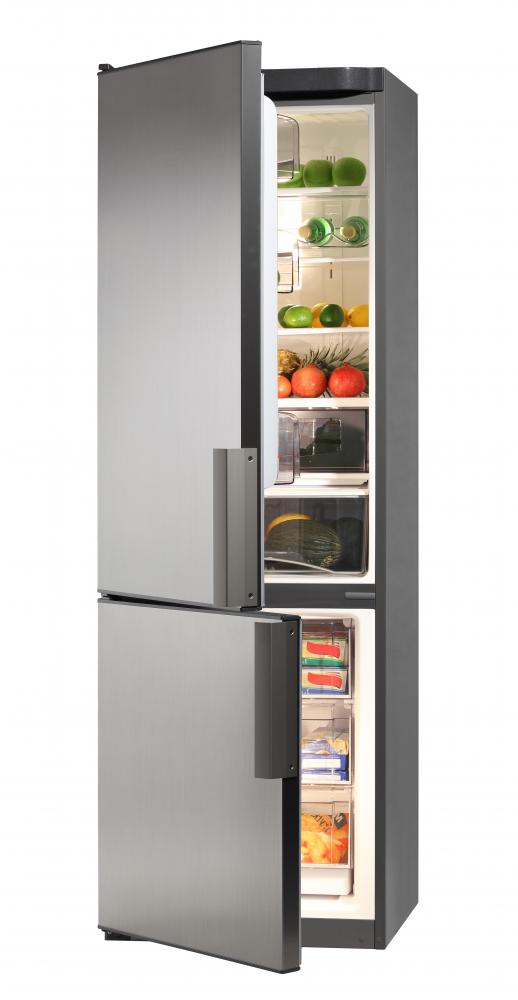 Using your home appliances wisely can also reduce energy consumption. Avoid leaving appliances turned on that are not in use and avoid running things like washing machines, dryers, and dishwashers until they contain a full load. Remember that home appliances such as your dishwasher and washing machine combine several sources of energy. Utilize the energy saving features of many newer models by washing in cold water or selecting the "no-heat" drying cycle on your dishwasher. You can also reduce the energy consumption of your oven by foregoing pre-heating when baking.
AS FEATURED ON:
AS FEATURED ON:

Microwaves use a lot of energy.

By: Ghost

Clothes dryers are one of the most energy consuming appliances.

By: Piotr Pawinski

Refrigerators use a great deal of energy.

By: yevgeniy11

Only running a washing machine with a full load can reduce household energy usage.

By: Piotr Pawinski

Dishwashers can consume a lot of energy when used.

By: Le Do

Air conditioning and heating units use a lot of energy.

By: Odua Images

Appliances that generate heat or cold air, such as refrigerators, use a large amount of electricity.

By: winston

Espresso makers aren't very energy efficient, and should be unplugged when not in use.