What Size Bed Should I Buy?
Size is a crucial consideration when buying a bed. A bed is a major purchase and the right bed is conducive to good health and wellness. A bed can be the most comfortable one possible to the sleeper, but if the size is too small, a comfortable bed can become a very uncomfortable one. Some considerations that should be made when choosing the size bed to buy are the sleeper's needs, the size of the room, and the budget available.
The twin, or single, bed is the smallest standard bed size available, other than crib size, and is used primarily for children. Twin sheets are the least expensive to buy and waterproof mattress covers are usually easy to find in the standard twin size. Bunk beds, which are usually two twin beds stacked vertically, are a classic and popular choice for children sharing a bedroom as they are a real space-saver.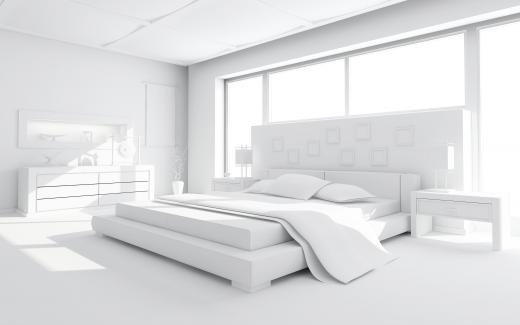 The extra-long twin bed is 5 inches (13 cm) longer than a regular twin bed. The extra-long twin is a good bed size to buy if you need versatility as two can be used apart to sleep two singles or moved side by side to make a king size bed for a couple. The extra-long twin bed is also perfect for teens and students in college dormitories. However, sheets and mattress pads may be more difficult to find for the extra-long bed than for the regular twin.
The full, or double, bed size is a good size to buy for one person who wants more sleeping room than a twin or extra-long twin offers. Sheets and bedding are usually easy to find in this size and are less expensive than queen or king sheets. However, the length of the double bed is standard length and not extra-long, so it is not suitable for tall people. A couple sleeping daily in a full, or double, bed may feel cramped and prefer a queen or king size.
The queen bed size is perfect for most couples and less expensive than a king size bed. Queen size sheets are also often available in more color and pattern selection than sheets for the king size. However, buying a king bed may be a good idea for couples who want the maximum amount of sleeping space as couples have less width per person than they would each have in a twin bed.
The standard king bed size, also called the Eastern King, offers couples the maximum amount of bed width and is the same size as two extra-long twin beds side by side. The California, or Western King, is not as wide as the Eastern King, but is longer and a better fit for most tall people. A king bed usually has the box spring in two pieces for easier moving.
AS FEATURED ON:
AS FEATURED ON:

By: DigitalGenetics

White bedroom with an eastern king (standard king) size bed.

By: David Hilcher

A double bed.

By: bonninturina

A queen size bed is perfect for most couples that share a bed regularly.

By: angelo.gi

Twin beds are the smallest mattress size available.

By: Lisa Turay

Designs for queen bed sheets are the most varied among the bed sheet sizes.

By: WavebreakMediaMicro

In addition to size, budget is a major factor when selecting a bed frame and mattress.