How Often Should I Change my Bed Sheets?
Bed sheets are soiled simply by everyday use and so should be changed regularly. Several surveys report that the majority of people change their sheets anywhere from once a week to once a month, but it's a good idea to change them every week. Depending on general cleanliness, allergies, and illness, some people may need to change their bedding more often. In addition to sheets, other bedding items, such as pillows and blankets, should also be cleaned regularly.
How Sheets Become Soiled
Even the cleanest people soil their sheets with daily use. Bodily fluids, such as sweat or drool, as well as oils that the skin naturally secretes are deposited on your sheets each night. Food crumbs or liquids may also end up on the sheets if you eat or drink while in bed. Additionally, humans shed skin cells at all times, and at night, they are shed into the bed.
Pets in the bed can also contribute to soiled sheets. Shedding, dander, and the daily dirt that they pick up can all end up on your bedding. Like your pets, if you don't bathe before bed, any dust or dirt you pick up during the day as well as make-up, body sprays, or lotions can transfer to your sheets too.
When You Should Change Your Sheets
A build up of sweat and oils on sheets can cause bacteria to grow, and can be generally uncomfortable to sleep on. Food crumbs may attract insects, and skin cells are the food for dust mites. If you have allergies to dust mites, it's important you keep the skin cells in bed to a minimum. People with extreme allergies may need to change their bed sheets as often as every day. Sheets should also be changed daily if you are sick.
Although many experts recommend changing bed sheets weekly, they firmly advise not going more than two weeks between sheet changes to avoid any possible respiratory problems or dust mite infestations. There are many people who only change bed sheets once every couple of weeks or once a month, though, and as long as you don't have terrible allergies, a compromised immune system, it's not likely to cause huge problems if you occasionally change your sheets less frequently than recommended. It is important, however, to wash any soiled sheets promptly. You should always wash sheets immediately after night sweats, incontinence, or food stains.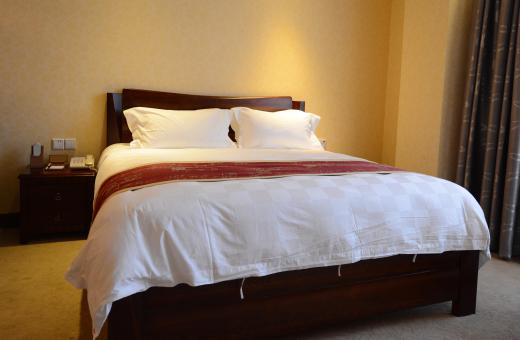 It's also important to have several sets of sheets on hand, as well as a good mattress cover. Failure to use fresh sheets and a mattress cover may increase dust mites in your mattress and reduce its usable life. Buying two or three pairs of bed sheets may be less expensive than having to replace a mattress, and is generally a good idea anyway, since it takes a while for sheets to get washed and dried. It's a good idea to have three sets of sheets, so that you can have one set available for immediate changing, one on the bed, and one in the wash. You may need more sets if you routinely get behind on the laundry.
How to Properly Wash Sheets
Wash bed sheets in hot water unless they are made of a fragile material, like silk. Water around 120-140°F (49-60°C) is necessary to kill bacteria and dust mites, but hot water can decrease the life of delicate sheets. Dry cleaning or steam cleaning are better options in this case. Although dry cleaning should be done by professionals, steam cleaning can be done at home with a handheld steamer. To do this, first wash the sheets in warm water, and then hang them on a line or over a shower rod until they dry.
Pillow, Blanket and Comforter Care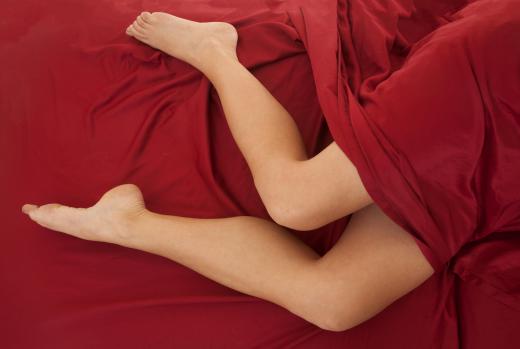 Regularly washing pillows, blankets and comforters is also important for bed hygiene. It's particularly important to wash all bedding regularly if you or a family member have bad allergies or have been sick. Generally speaking, you should wash pillows once or twice a year, and blankets and comforters at least once a month. You can clean pillows at home in a washer and dryer, but make sure that they're totally dry before you put them back on the bed to avoid mold.
Use a commercial washer and dryer to handle thick or heavy comforters. You can lengthen time in between changing comforters if you use comforter covers like duvets. This allows you to simply wash the cover every few weeks instead of the bulkier item. If you have trouble getting large or thick comforters washed regularly, consider layering lighter blankets instead. You may want to consider handwashing delicate blankets or getting them professionally cleaned.
How to Eliminate Bed Bugs from Sheets
Although soiled bedding can attract all sorts of insects, bed bugs are one of the more common to infest bedding, as well as furniture and clothing. If you think you may have bed bugs, your best option is to call an exterminator. To eliminate these pests from sheets, blankets and clothes, wash items in water over 140°F (60°C). Bed bugs normally also infest mattresses, which cannot be washed because of the risk of growing mold. Completely enclosing an infested mattress in a quality mattress cover for 12 months usually deprives bed bugs of oxygen, killing them.
AS FEATURED ON:
AS FEATURED ON:

By: karam miri

Those with allergies and people with night sweats should change their sheets often.

By: barneyboogles

Folded sheets.

By: Scanrail

People soil their sheets with daily use of body sprays.

By: xy

Bed sheets should be changed about once a week.

By: LoloStock

People who eat in bed should change their sheets often.

By: Poulsons Photography

Hot water can damage delicate materials like silk.