What Are the Different Bed Sizes?
There are approximately a dozen different bed sizes, which are measured by the dimensions of the mattress that a bed will hold. The smallest are usually crib or toddler beds and twin beds, and these two sizes may come in small, long, and extra-long sizes. Full and queen beds are two of the most commonly used by individual adults as well as couples, and king-sized beds are the largest available in most areas without ordering a custom bed and mattress.
Cribs and toddler beds are two of the smallest bed sizes on the market. In most cases, both are the same dimensions when it comes to the mattress size, although the crib has railing while the toddler bed may not. These are typically take a 28-inches wide by 52-inches long (about 71 centimeters by 132 centimeters) mattress; however, there are some less-common crib and toddler bed sizes that are slightly wider yet a little bit shorter. These are often marketed as space-saving cribs or compact toddler beds.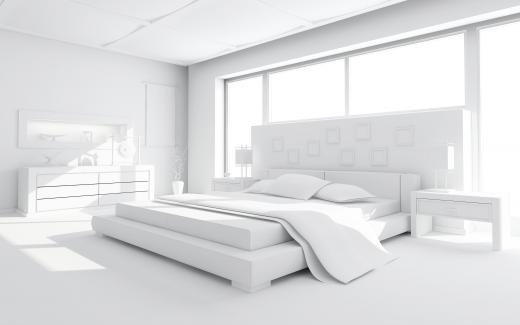 Twin size beds can generally hold a mattress between 35 and 39 inches wide (about 88 centimeters by 99 centimeters) and 75 to 80 inches long (190 centimeters by 203 centimeters). The standard twin bed varies in size by country, and these beds are also available in a small, long, and extra-long version in many markets. They are generally most popular for younger children, teenagers, and young adults; in most cases, it is incredibly difficult for more than one person to sleep in a twin-sized bed.
A full bed, often referred to as a double bed, and queen-sized beds are two of the most commonly sold in many countries. A double bed is usually about 55 inches wide (139 centimeters) and between 74 and 79 inches long (187 centimeters by 200 centimeters). In the UK, a smaller version is available, which is typically 48 inches by 78 inches (121 centimeters by 198 centimeters). Queen bed sizes, which are known as wide double beds in Japan, are usually between 60 and 63 inches wide (152 centimeters and 160 centimeters) by 78 and 80 inches long (198 centimeters and 203 centimeters).
The largest mass-produced bed sizes on the market are the king, known as the super king in the United Kingdom, and California-King beds. The former is usually between 71 and 76 inches wide (180 centimeters and 193 centimeters) by up to 80 inches (203 centimeters) long, depending on the manufacturer. A California King is usually about the same in width as the standard, although it is generally longer, between 81 and 84 inches (205 centimeters and 213 centimeters), making it ideal for those who are naturally tall.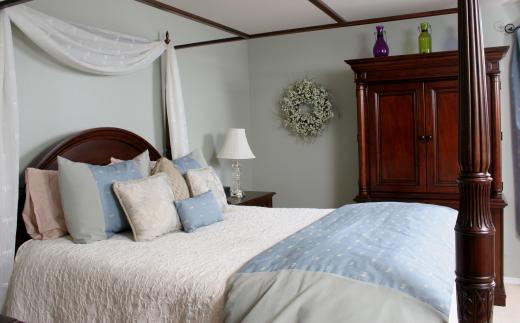 In addition to length and width options, the depth of beds also vary, usually among twin, double, and king beds. While there are no standard mattress depths, many range from 9 to 14 inches (appx. 23 to 36 cm) in depth. Those marketed as "deep" or "extra deep" beds generally fit those beds with a depth up to 24 inches (appx. 61 cm). Pillow top mattresses also provide an additional layer to the top of the bed, and can be even thicker than those extra deep mattresses. Consumers are advised to check their mattress sizes and depth before purchasing any bedding.
AS FEATURED ON:
AS FEATURED ON:

By: DigitalGenetics

White bedroom with an eastern king (standard king) size bed.

By: David Hilcher

A double bed.

By: ti_to_tito

Twin beds are mostly popular for younger children, teenagers and young adults.

By: Lisa Turay

Queen size beds are the most common bed size.

By: WavebreakMediaMicro

A California king-size mattress is longer and more narrow than a standard king mattress.

By: Pavla Zakova

Toddler beds are some of the smallest bed sizes on the market.