What Should I Consider When Buying Bath Towels?
Every home needs towels so that occupants and guests can dry themselves easily after a bath or shower. When buying bath towels, you should consider the quality of the material, how many you need, and their design.
Bath towels come in many different designs and colors. You can match or coordinate your towels to the paint color you use in your bathroom or with other items, like the shower curtain or floor mat. If you are renting and/or have a neutral-colored bathroom, you can add needed accents of color with the towels and other accessories, or keep the neutral look with towels in interesting textures, such as ribbed or waffled.
Monogrammed towels can also add style to a bathroom and make excellent wedding gifts. Initials, wreaths, and crowns are some of the popular images that can be monogrammed onto them. Often, these special towels are not used, but displayed over other towels that hang in the bathroom.
To determine how many bath towels you need, consider the number of people in your household, including the number of guests you are likely to have in your home. A good rule of thumb is to allow two towels or bath sheets, two hand towels, and four to seven face cloths or wash cloths per person. Face or wash cloths are often used for makeup removal as well as face washing. Hand towels are sometimes used for drying hair as well as for drying hands near the sink. Bath towels and sheets are used for drying the body after a shower or bath.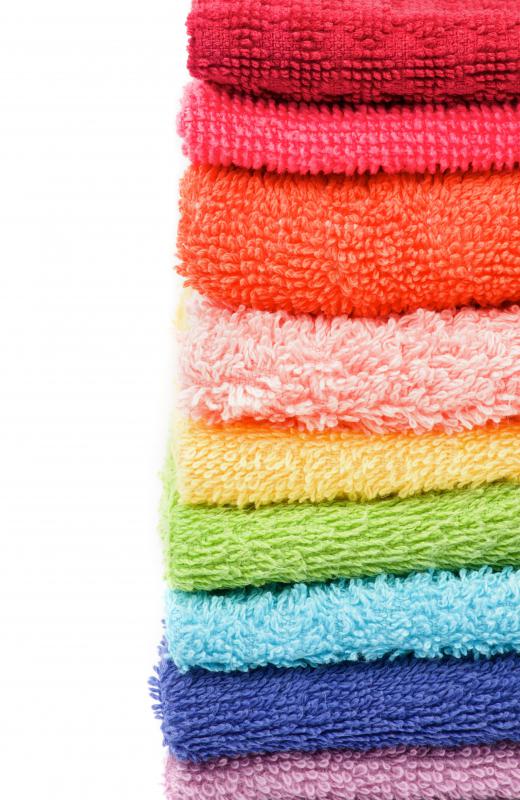 Consider buying bath sheets rather than towels for larger people. Sheets are bigger, so they offer more drying surface and often can be wrapped around the body in lieu of a robe. Bath sheets often work well hung on hooks high up on the backs of bathroom or bedroom doors, as they can sometimes seem too large for towel bars.
Consider buying natural fiber bath towels over synthetic blends for their quality. Towels made from natural fibers are often the most absorbent and are also very strong. Terry cloth towels are very absorbent and strong. This material is made up of tiny loops, and the denser and longer the loops, the stronger and more absorbent the towel. Microfiber towels are also highly absorbent, lightweight, and soft.
AS FEATURED ON:
AS FEATURED ON:

By: Rido

Bath towels are useful after taking a bath or shower.

By: zhekos

Bath towels come in many different sizes, colors, styles, and materials.

By: xy

Hand towels are intended specifically to dry the hands and face.

By: Offscreen

Bat towels are usually thicker than regular towels for more absorption.

By: milkovasa

Many people use bath towels as a wrap after they are finished bathing, and may prefer larger towels.