What Is Tuscan Architecture?
Tuscan architecture is the traditional architecture of Tuscany, a region in central Italy. Stone, wood, wrought iron and tile are some of the building materials commonly used in Tuscan style buildings. With simple, clean lines and design elements drawn from as long ago as the Roman Empire, Tuscan architecture is a rustic yet sophisticated style particularly suited to its original Mediterranean setting and increasingly used in other parts of the world.
Traditional building techniques in Tuscany used locally available stone, mostly limestone and shale, to form both foundation and walls. Tuscany is a region with roots in antiquity, and many of its buildings have been in use for generations, with extensions and additions added over time, so the stone used in one building can vary and terracotta brick may fill in between stones and frame doors and windows. Newer buildings in the Tuscan style continue to use a look of roughly dressed stone for exterior walls as well as patios and garden walls.
Interior walls are plaster, with textured designs on the surface. Paint colors for the walls are neutral but accent colors are warm rich earth tones, yellows, reds and greens. Murals painted directly on walls are a traditional touch. Windows are arched and framed with full-size wooden shutters. Fireplaces are common and have stone hearths, often marble or travertine, and mantelpieces of either stone or rugged wood.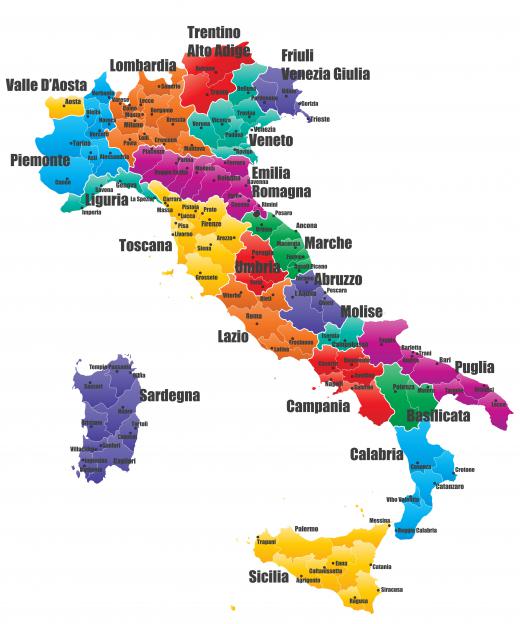 Tuscan architecture calls for high, vaulted, ceilings. These are either richly textured or paneled with wood and feature a stenciled decorative border. Exposed wooden beams are a key element in the look of Tuscan ceilings. Floors are stone, often marble or travertine, terracotta tile, or terrazzo.
Exteriors in Tuscan architecture feature much the same array of building materials and continue the simple yet elegant decorative style. The Mediterranean climate calls for outside living areas, and patios and enclosed gardens are common. Walls of crumbling stone typically have vines growing up them and wrought iron gates. Tile roof colors are in the same warm range of yellows, browns, reds, and greens seen in interior rooms. Columns and statuary in the ancient style are often used, as are fountains.
Modern buildings can have the style and appeal of Tuscan architecture. Using man-made stone and concrete to give the look of aged natural materials makes the style accessible at a more reasonable price than using all natural materials would cost. Colors, textures on walls and ceiling, arched wood-framed windows, and tile roofs can all help recreate the look of a Tuscan home.
AS FEATURED ON:
AS FEATURED ON:

By: lunamarina

Tuscan architecture often features rustic stone walls.

By: willypd

Tuscan architecture is the traditional architecture of Tuscany, a region in central Italy.

Tuscan architecture kept design elements of the Roman Empire.