How Do I Create a Tuscan Garden?
To create a Tuscan garden, you can implement elegant, simple designs from Italy into your yard or landscape. Some common elements to utilize in a Tuscan garden design may include wrought iron structures, old world statues, and other structures reminiscent of Tuscany. Flowers found in a Tuscan garden might include lavender herbs or contrasting foliage to create layers of color.
Though many people envision a Tuscan garden as a vast, wide space, size does not matter when planning this landscape. Tuscan gardens can be small and patio sized just as easily as they can be represented across acres of land. Utilizing common Italian elements and floral arrangements is typically considered more important than designating a wide area for the garden. The area should, however, be able to be both inviting and elegant at the same time, as well as invite plenty of sunlight.
Aged iron structures, from bird baths to park benches, are often components used in designing an Italian garden. Wishing wells, water fountains, and other aquatic structures can also add beauty and tranquility to a Tuscan garden. In addition to iron, bronze statues and colorful ceramic structures may also be implemented, as long as they maintain the rustic, Tuscan look and feel of the garden.
Pots and planters made from terracotta or stone are commonly found in a Tuscan garden. They may appear to be very natural or feature intricate designs and etchings, such as the ones found on Grecian urns, depending upon the gardener's preferences. Many Tuscan gardens, however, feature wild Mediterranean flowers and plants that are free of such containers. These are typically designed to provide depth and color contrast, alternating in height around the garden structures and other landscaping.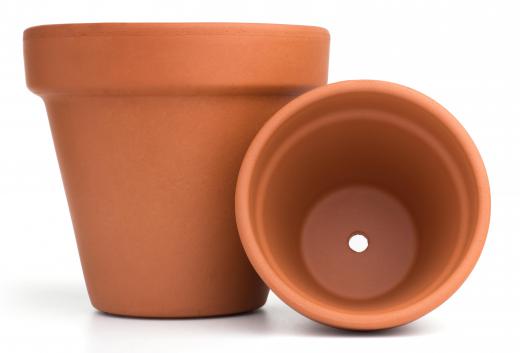 Fruit trees are commonly found in sunny Tuscan landscaping. Grape vines are another frequently used plant, especially if the Tuscan garden coincides with a vineyard. Other plants might include lush roses climbing the wrought iron statuary or popular fragrant herbs, such as rosemary, basil, or parsley. Vegetables may also be grown in a Tuscany-inspired garden, particularly if they are commonly used in Italian cooking, such as tomatoes and eggplant.
Winding strands of ivy are seen in most Tuscan gardens. These often provide an aged, regal look to the landscaping, as well as more layers to the rest of the garden. Vibrant flowering bushes and brick structures in shades of taupe, rose, and other warm or neutral shades can also add to the effect.
AS FEATURED ON:
AS FEATURED ON:

By: Barbara Pheby

Basil is often grown in a Tuscan garden.

By: Natika

A potted basil plant.

By: Sergey Skleznev

Terracotta pots are commonly found in a Tuscan garden.