Rug yarn is the name for several different things. First, it is the term used for a specific type of yarn, usually a thick, 3-ply yarn often chosen by crafters for making rugs, though 4-ply and 6-ply yarns also exist. Rug yarn is in the bulky class of yarn, category 5 as defined by the Craft Yarn Council of America (CYCOA). Yarn of this description is often wool, acrylic, cotton-rayon blend, and polyester, but crafters can also find alpaca and mohair-wool blend.
The term can also be applied generically to any yarn used to make rugs. Used this way, the term can include yarns with different characteristics from those described above. Tapestry yarn, a 4-ply tightly twisted yarn, is often used in rug making, as is Rya yarn, a 2-ply yarn with a ropelike twist, and Lopi, a traditional Icelandic 1-ply wool yarn. The important factor, if the crafter is using a pattern, is to match the knitting gauge recommended.
Rug yarn also comes in several novelty styles, though less variety is found in yarns with this label than in yarns meant for, say, socks and sweaters. One novelty form is glitter yarn, and flake and nub yarns are also available. Color is another area in which rug yarn has a bit less variety than some other weight yarns. Natural, undyed yarn is available, along with a wide variety of colors, including some heathered colors. Some natural yarns may accept dyes.
Another factor to be aware of is that while some rug yarns are designed for for hand-crafted rugs made by punch needle, latch hook, or Rya stitch, others are created specifically for loom weaving. Products for loom weavers include cotton warp, a linen/cotton blend called cottolin, linen warp, wool warp, and seine twine, also used for warp. Both yarns made for hand work and those made for loom weaving may be used on knitting machines, but it is a good idea to check the manufacturer's recommendations.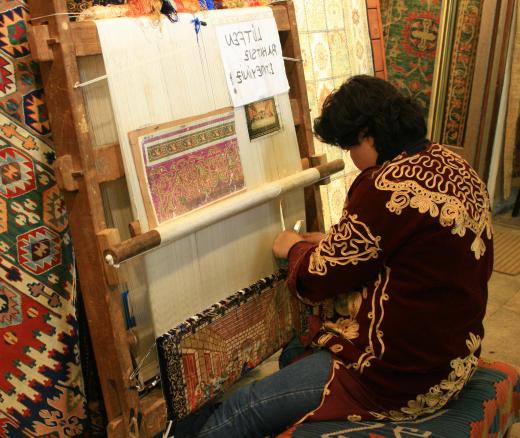 Note, however, that even the rug yarn specifically made for rugs is not limited to that use. It can be used for making other products, such as hot pads, hats, afghans and other throws, and knitting garments. Other crafts, such as crochet, macramé, and collage, can also be made with this type of yarn.
AS FEATURED ON:
AS FEATURED ON:

By: Max Tactic

Rug yarn refers to the types of yarn used to create rugs, including acrylic.

By: oscar williams

Some rug yarns are specifically made for loom weaving.

By: JMFontecha

Four-ply tapestry yarn can be used to make rugs.

By: blackcurrent

Mohair, produced from the hair of angora goats, may be used to make rug yarn.