There are a number of types of caulk available, each made out of a different substance with various specialties. One of the most common types is rubber caulk. Like any other kind, it usually is best for sealing gaps in diverse materials. It has its own specialties that set it apart from other types, and the main kinds often seen are butyl rubber caulk and silicone caulk.
One of the main types formally is called butyl rubber caulk, which typically lasts for about ten years. Though it only tends to come in one color, it is easy to paint over, and it does have many uses. Most users fill in gaps and cracks in brick and concrete masonry with it, but it also can be applied to metal. It also sticks well to rubber, plastic, wood, stone, vinyl, and mortar. Some of its most common uses include sealing gutters, roof vents, pipes, drain spouts, and vinyl siding on houses.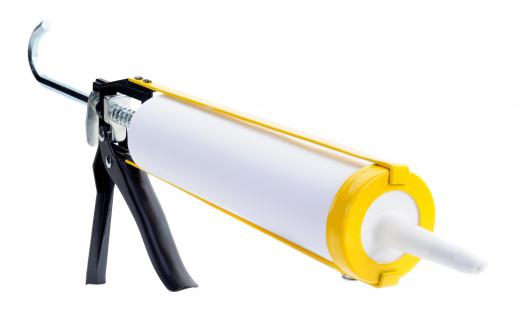 Another common type of rubber caulk is the silicone kind which tends to stay flexible after its application. It dries rather quickly and is watertight. Silicone caulk typically is used to seal gaps around doors, windows, trim, molding, baseboards, and kitchen and bathroom sinks. It usually sticks particularly well to glass, tile, wood, and drywall. Unlike butyl caulk, this type typically cannot be painted over, but it usually lasts about three times as long as the butyl kind.
The fact that rubber caulk can create a watertight seal often makes it useful outdoors. It usually is important to choose the right caulk for the job, considering the number of variations available. For example, while butyl rubber caulk works particularly well outside, such as in concrete cracks, it might not be the best choice for bathrooms and kitchens. Instead, silicone caulk could do a better job. In fact, sometimes caulk other than the rubber kind is best, depending on the project.
In most cases, any kind of caulk works best when applied to a clean, dry surface. If caulk does not do the job, it often is either due to faulty preparation of the area, or it is the wrong selection for the job. Additionally, the proper cleanup should be noted before using the chosen type of caulk. Since they are not water-based, it often is difficult to clean up either silicone or butyl caulk as they usually require the use of a special solvent rather than just soap and water.
AS FEATURED ON:
AS FEATURED ON:

Rubber caulk in a caulking gun.

Applying rubber sealant to a wall.

A person applying rubber caulk.