Silicone caulk is a building material with a sticky, gel-like consistency. It is used as a sealant or water-proofing agent around structures and fixtures on both the interior and exterior of a building. This caulk is typically clear in color, but may also be white or colored to match the surrounding decor. It bonds well with almost any material, including glass, ceramic, wood, metal, and plastics.
One of the primary applications for silicone caulk is sealing around plumbing fixtures such as bathtubs, showers, toilets, and sinks. The caulk keeps water from seeping into the area beneath there fixtures, which helps minimize moisture damage like rotting or mold accumulation, and it is also used to seal around floors or countertops, particularly in the kitchen or bathroom. It can also be used to weatherproof a house — by sealing around doors, windows and other exterior wall penetrations, homeowners can minimize drafts and energy leaks, and can even keep pests and rodents out of the home.
There are two basic varieties, including both standard and "tub and tile" versions. Standard silicone caulk is generally considered safe to use on countertops or other food-preparation areas. Tub and tile or bathroom caulk contains chemicals designed to prevent mold and mildew growth, but should not be used around food.
Silicone caulk is primarily chosen for its flexibility, which helps to seal or waterproof an area while still allowing for natural expansion and contraction over time. Other types of caulk don't typically offer this level of flexibility, which may result in cracks or other damage as the surrounding objects expand or contract. When used to seal exterior openings, it can make heating and cooling more efficient by stopping air leaks, which may result in lower energy bills. It can also extend the life of different fixtures or structures by lowering the risk of rot or mildew.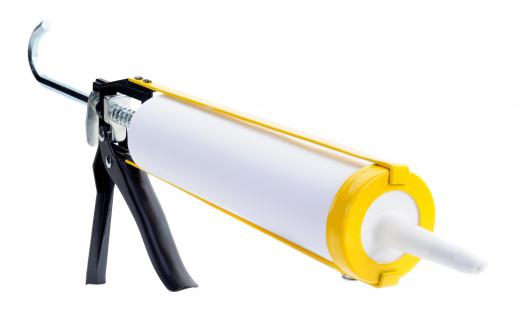 One of the biggest disadvantages of silicone caulk is that it cannot be painted. The silicone prevents paint from bonding well with the caulk, which limits a homeowners ability to modify its appearance after it has been installed. It also has a fairly long drying time, and often produces irritating or potentially harmful fumes as it is installed. Because of these fumes, installers should ensure the room is well-ventilated when using silicone-based products. The caulk should also be protected from moisture for several days after application so that it can dry completely.
AS FEATURED ON:
AS FEATURED ON:

Applying silicone caulk to a wall.

Silicone caulk.

By: ganko

One of the primary applications for silicone caulk is sealing around plumbing fixtures like sinks.

A person applying silicone caulk.

By: Jiri Hera

Silicone caulk is often used as a water sealant in fixtures such as toilets.