How do I Choose the Best Colored Caulk?
Colored caulk is a must-have for any homeowner interested in trying his hand at do-it-yourself jobs. It can be used to caulk tile and grout, countertops, and other painted surfaces easily and effectively. With colored caulk, any caulking job can be completed without the need to hire a handyman to match colors to home fixtures. Since colored caulk can be purchased in set colors or mixed to match fixtures, it is also an economical alternative to having someone else create an appropriate color.
Kitchen and bathroom caulk is usually sold in many different hues. As kitchens and bathrooms are both built and decorated in various colors, manufacturers offer this type of caulk in a wide variety of colors. Even if colors do not specifically match fixtures, there will likely be colored caulk that matches decor. Kitchen and bathroom caulk has the added benefit being extra-resistant to moisture, mold and mildew. It is also tough enough to act as a sealant against toilets, sinks, bathtubs and shower stalls.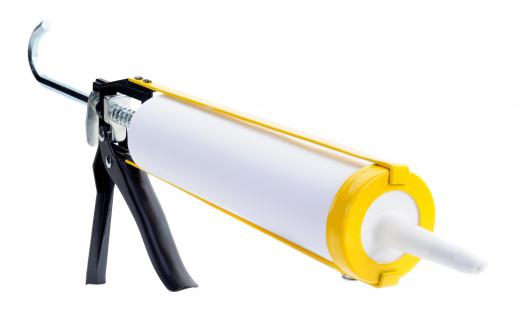 Butyl rubber caulk can also provide homeowners with a colored caulking solution. While butyl rubber caulk can be bought already colored, homeowners can create a perfect color match by buying tints. The tints can be mixed with butyl rubber caulk and applied to surfaces so that the caulking appears virtually undetectable against surfaces.
Of course, not all homeowners will be able to find colored caulk to match the fixtures. For those homeowners, investing in a specific type of caulk may be the solution. For example, certain types of acrylic latex silicone blend caulk can be painted over to match its environment. Since acrylic latex silicone blend caulk can be used both indoors and outdoors and can be easily modified to blend into its environment, it provides a good alternative to pre-colored caulk.
Using colored caulk may have some disadvantages. It may stain porous surfaces like walls or wallpaper. Homeowners should determine if staining will be an issue by patch-testing a small part of the surface area to be caulked. To avoid staining, homeowners will have to take care to protect the areas from unnecessary contact by using masks and shields.
Investing in a clear caulk is also a viable solution for homeowners. Using clear caulk takes the guesswork out of choosing a matching color. Buying clear caulk can also save money because it can be used and reused in any area that requires caulking.
AS FEATURED ON:
AS FEATURED ON:

A caulking gun.

By: Jiri Hera

Caulk is tough enough to act as a sealant for fixtures including toilets.