What is Peel and Stick Stainless Steel?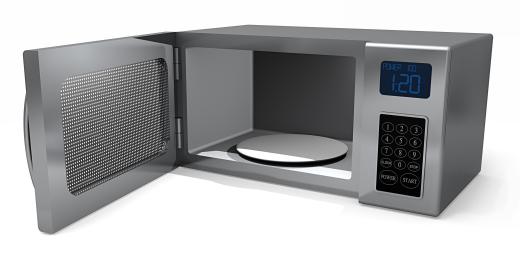 Peel and stick stainless steel is a fairly new home decor product that is cut from a roll and placed onto appliances and other smooth surfaces to add the look of stainless steel. The soft metal film can reface many appliances as well as countertops and other surfaces. This type of stainless steel usually doesn't show finger prints as easily as actual stainless steel appliances. Most people are pleased with the way the product looks.
The metal film can add a new look to a kitchen. It can update an old fridge by giving it the look of a stainless steel appliance. You can also use it on stoves, but not on the actual cook top. Microwaves can also be covered with peel and stick stainless steel. This way all of your appliances can looked matched.
Countertops can also be given a new look with this covering. The surface is often very easy to wipe clean. A glass cutting board on the countertop will allow the stainless steel look to show through while also offering a place to chop food. Back splashes can also be done with peel and stick stainless steel. Basically, any smooth surface is suitable for the soft metal film product.
Some people even use the film on ceilings and in boats. The product is also popular in offices. It is very versatile, allowing you to use it on horizontal or vertical surfaces. In addition to using large pieces on walls, counters and refrigerators, scraps can be used on smaller items such as wastebaskets, planters and canisters.
Embossed patterns and textures of peel and stick stainless steel are also available, although the smoother type is probably easier to find. Peel and stick products usually include a grid for measuring and cutting. The backing peels off the rolls of the soft metal film and you simply apply it to the surface you want to reface.


Peel and stick stainless steel can be used on microwaves.

By: Todd Taulman

Peel and stick stainless steel can give appliances the look of stainless steel at a fraction of the cost.

By: Ljupco Smokovski

All kitchen appliances can look like they match with peel and stick stainless steel.