What is Decorative Home Lighting?
Decorative home lighting can refer to any lighting used in the home that adds aesthetic appeal to the home as well as functional lighting. Some types of decorative home lighting are more functional than others; holiday lights, for example, are generally purely decorative without adding much additional light to the home. Lamps, ceiling fixtures, or other types of lighting can add equal amounts of functional light and decoration to the home.
When people are choosing lighting for their homes, they typically choose decorative home lighting because it can add to the value and aesthetic appeal of a home. This is as opposed to lighting that is purely functional, such as lights mounted under cabinets, or large fluorescent light fixtures that are most often used in offices or other business buildings. Freestanding lamps are some of the most common types of decorative home lighting.
These may be short table lamps or larger, freestanding floor lamps. Lamps featuring glass shades tend to be more expensive, and fabric or paper shades are somewhat more common. Changing the lamp shade of a lamp is an easy way to change both the look of the lamp, and the look of the whole room. A mixture of lamps in different sizes is a good way to add interest to a room as well.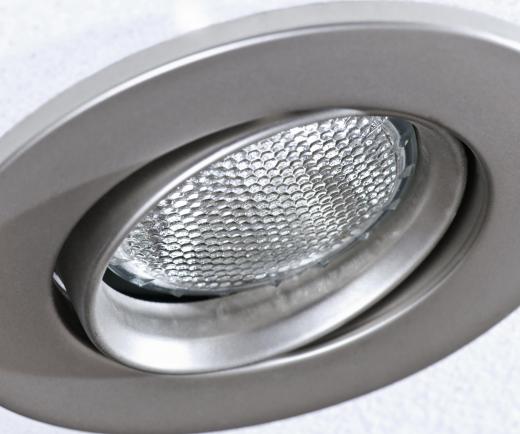 Ceiling lights are another type of interior home lighting that are commonly used in all different types of rooms; a ceiling fan is a great choice for many rooms because it can help to keep the air cooler in the summer and warmer in the winter, and can keep electric bills lower. Recessed lighting is another common choice for decorative home lighting, though this lighting is more functional than decorative. Hanging fixtures such as chandeliers are another type of decorative home lighting.
Decorative home lighting is not necessarily always interior lights. Exterior lighting, such as porch lights, is another type of decorative lighting. In addition, exterior lighting on the ground, such as in-ground patio lights or lights used to mark a pathway, can add a great deal of appeal to the outside of a home. These may be wired to the home, or for those who cannot add the wiring to the home, these lights are now available in solar varieties as well. They feature a small solar panel and photocell on each individual light, and charge all day in the sun to stay lit all night.


By: Artistic Endeavor

A string of decorative colored lights.

By: iskandarov

Table lamps can be a form of decorative home lighting.

By: Deyan Georgiev

Fluorescent bulbs may be used to provide home lighting.

By: Elenathewise

Recessed lighting is a common choice for decorative home lighting.

By: Dmytro Smaglov

Chandeliers are a type of decorative home lighting.

By: venusangel

Freestanding floor lamps are some of the most common types of home lighting.