What is Recessed Lighting?
Recessed lighting can provide dramatic, low-profile illumination for every room of the house. These fixtures are embedded into the ceiling, so there are no dangling cords, switches, lampshades, or bulbs to interrupt your view. Different varieties of recessed lighting can provide ambient, accent, task, and flood lighting depending on their bulbs, housing, and trim.
Designers and homeowners choose recessed lighting when they want something sleek, functional, and affordable that doesn't call too much attention to itself. This option is all but invisible since the fixture, light bulb, and wiring are all secreted away inside the ceiling, and it turns on via a wall switch. All a person sees are glowing discs of light directed at a countertop, painting, table, or shelving.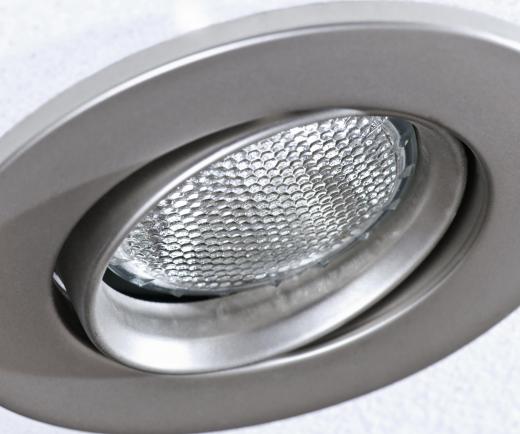 There are several parts to a complete mechanism. In different combinations, they will produce a light that is focused and bright, diffuse and calming, or somewhere between the extremes. The first important part is the housing, or can. This is the electrical fixture that positions the light and gets power to the bulb. Housings will vary based on whether your ceiling is insulated and how much access you have to the space.
The particular housing for your recessed lighting will determine whether you'd prefer fluorescent, halogen, or incandescent bulbs. Fluorescent lights are extremely energy efficient so they benefit your budget and halogens can be acquired in low voltage varieties. Traditional incandescent bulbs give a warm, familiar glow, and can easily be hooked to a dimmer switch so their brightness varies.
Reflectors, inside the housing, are domes that bounce light downward into the room where it is most needed. Diffusers are discs of glass or plastic that change the light in some way. Recessed lighting may be filtered so it appears softer, or so that outdoor applications are protected from insects. Usually, people install an array of fixtures to fulfill all the different needs of separate areas of a room.
Another part of recessed lighting is the trim. As the most visible piece of material, this ring lays flat against the ceiling. A decorative element, trim can be white plastic to blend in with the ceiling, or tinted for a splash of color. Trims may also be incorporated into baffles, slight extensions that direct the beam of light into one area, such as toward a sink or desk.
Directionals are one specialized type of recessed lighting. These are like track lighting in that they can be rotated to align with different areas of your home. Rather than spread their light across an even field, they can point at a print or painting hanging on the wall, or illuminate the first step on a staircase.
AS FEATURED ON:
AS FEATURED ON:

By: Elenathewise

Recessed lighting fixtures are embedded into the ceiling to provide low-profile illumination.