What are the Different Types of Architectural Lighting?
Architectural lighting design addresses exterior and interior lighting needs within residential and commercial spaces. Lighting can be a necessity, to light work tasks for example, or merely serve a decorative purpose. Some architectural lighting products are breaking new ground in energy conservation. Many consumers are willing to pay a higher purchase cost when buying compact-fluorescent light bulbs (CFLs) with a longer life cycle or light-emitting diode (LED) lighting to save on electric bills.
Among the exterior spaces of a home or building, various types of lighting address different requirements of the space and activities taking place there. For patios, courtyards, and public common areas, spotlights and floodlights are two types of architectural lighting used to emphasize decorative landscaping or natural features. Safety issues are often dealt with by outdoor lighting fixtures. Motion-sensor lights and step lights on stairs can satisfy a homeowner's safety needs or building code requirements. Either way, the architectural lighting can keep residents and visitors safely on their path.
Wall sconces or lit bollards, which are poles installed to attract attention to an area, can illuminate a municipal or business building's decorative or historical facade or safely guide pedestrians in the dark. Some lighting designers recommend solar lighting, which harnesses free power from the sun, for lighting an area during nighttime hours. Architectural area lighting must sometimes be dark sky friendly, meaning it illuminates the ground but not the sky, to meet community mandates or neighborhood covenants.
Choices abound in architectural lighting for interior spaces. A commercial building or home requires different types of lighting depending on its inhabitants' needs. Residents' daily functions and desired moods dictate which types of lighting are best. Overhead lighting comes in a multitude of styles, and can be fluorescent, incandescent, compact-fluorescent, or LED powered. Fixtures may be attached directly to the ceiling, to a track, or hang down from a ceiling base, such as with pendant lighting, chandeliers, and hanging lamps.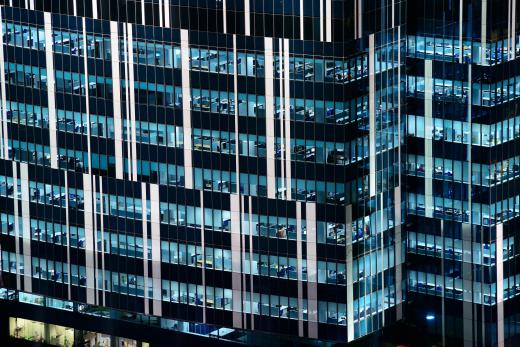 A lower level of illumination can emit from accent lighting such as table lamps; wall sconces; recessed lighting or can lights in ceilings, soffits, or flooring; and fixtures that showcase artwork. Even more area-specific is task lighting. Desks, reading spaces, musical instrument areas, and cooking spaces are often lit by halogen lamps, track lighting, or recessed spotlights to provide the best level of brightness for the activity.
Light affects humans' moods and ability to perform tasks. Properly lit dwellings, businesses, and office spaces can result in the comfort and well-being of their inhabitants. The appropriate architectural lighting can contribute greatly to the safety and look of a building.
AS FEATURED ON:
AS FEATURED ON:

By: Deyan Georgiev

Fluorescent bulbs may be used to provide architectural lighting.

By: Coprid

LED lights may be used in architectural lighting because they promote energy savings.

By: Photobank

Architectural lighting addresses exterior and interior lighting needs in commercial buildings.