Trowel is the name of a number of construction and garden tools. Appearing in a wide variety of shapes and sizes, these tools usually consist of a metal blade of any of various shapes attached to a short handle. Some are flat, while others are curved, and they are variously used to spread, dig, scoop, and place.
Construction trades. Tile, marble, and terrazzo setters; bricklayers; cement masons and concrete finishers; drywall finishers; plasterers; and others who practice the crafts known as the Trowel Trades use these tools as part of their everyday equipment. Construction versions are usually metal-bladed and many have a V-shaped back. These are some of the important types:
* Brick trowel. This tool has a slightly rounded, diamond-shaped blade. Brick trowels come in several patterns, including the London pattern for laying brick and the Philadelphia pattern for laying block. They are also used for tamping bricks, and experienced masons use them to cut bricks.
* Float or Finishing Trowel. A tool with a large, flat rectangular blade with a handle and used to smooth a surface. Finishing trowels are available in a variety of widths and lengths to suit the job.
* Flooring Trowel. Designed for laying concrete, this tool is shaped like a lancet arch, with a rectangular back and a pointed front made to fit corners.
* Gauging Trowel. This type is distinctive in having a rounded tip, along with the characteristic V-shaped back. It is designed for gauging, or mixing in specified proportions, small amounts of quick set plaster.
* Corner Trowel. V-shaped, this tool is made to fit the inside of a corner joint and apply joint compound there. The drywall corner trowel, for feathering and tapering joints, is made with a somewhat flexible angle.
* Margin Trowel. A tool with a V-shaped back but a rectangular front. It can be used to mix thinset and other material, for scooping, and for spreading material such as adhesives in tight spots.
* Notch Trowel. There are square, rectangular, scoop and v-notch versions. V-notch, square and scoop types are for spreading ceramic tile adhesive. Square and rectangular notch versions are used to apply thinset mortar for floor tile.
* Pointing Trowel. This type, a smaller version of the brick trowel, has several functions — it is used to separate concrete from the forms it is poured into, for finishing joints in brick walls, and for spreading material in tight spots.
* Tuck pointing Trowel. A long, thin tool with high lift, it is designed for packing mortar between bricks.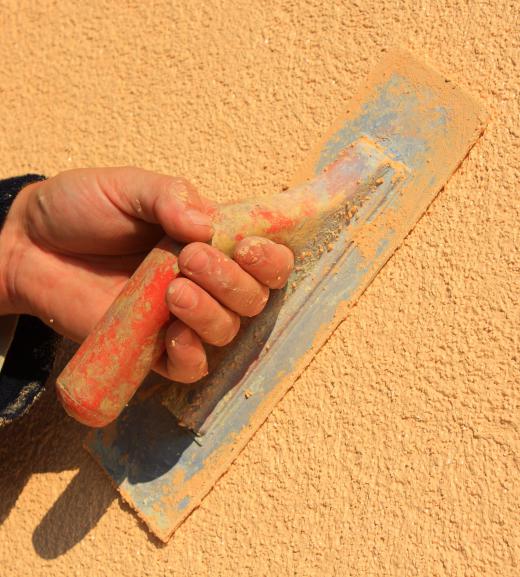 Gardening. A gardening or garden trowel is a multipurpose garden tool with a blade of metal or polymer and a handle. The blade may be attached to the handle with a curve or lift, as in a shovel, or straight, as in a spade. Sometimes they are, in fact, described as miniature shovels or referred to as hand spades. Long-handled versions allow the user to avoid stooping and bending.
The shape of the blade may also differ, with some being more rounded while others come to a point. Blunter tools are better for scooping and mixing, while trowels with a point excel in digging. Most basic types are fairly broad, but some have a narrower design, similar to a transplanter, and some of these, like transplanters, are marked with graduated measurements.
A trowel can serve many purposes — cultivating the soil in a small area after it's been initially broken up; digging, planting or potting in situations in which a transplanter is too small; weeding; and like an oversized spoon to mix, for example, soil with additives like fertilizer of vermiculite. They are often sold in garden sets along with several other garden hand tools, such as a cultivator and a garden fork. There are several types of specialty garden tools, including a weeding trowel which can fit between cracks in pavement, and even a specific "dandelion trowel." Another specialty version has serrated sides to slice roots and weeds.
AS FEATURED ON:
AS FEATURED ON:

Brick trowel.

Finishing trowel.

By: Kadmy

A brick trowel is the tool used to spread concrete or mortar when laying bricks.

By: robcartorres

Plasters use trowels almost everyday.

By: Kadmy

Larger slabs, such as garage floors or house foundations, may require the use of a power concrete trowel.