What is a Garden Trolley?
A garden trolley is a piece of gardening equipment which is designed to be used as a carrier for various objects around the garden. Also known as yard carts, garden trolleys can be very useful tools for gardeners, especially when they are working on major gardening projects. Many nursery and home supply stores carry trolleys, with several different designs being available. When getting ready to go to the store, it's a good idea to measure garden paths and the doorway of the gardening shed to have a rough idea of size limitations.
The basic garden trolley is a four wheeled cart, often made from mesh which will allow for drainage. The cart may be flat, or it may have sides, and sometimes the sides flip or fold down. The garden trolley is maneuvered with the use of a pull handle. Garden trolleys tend to have narrow profiles so that they will fit easily on paths and walks without damaging plants.
Some companies manufacture folding trolley products. These can be very useful for gardeners with limited storage space, as they can be folded down for storage to fit in compact locations. Folding wheelbarrows are also available; sometimes a wheelbarrow is more useful because it has a smaller footprint and thus will not damage lawns and plants.
One use for a garden trolley is as a container to dump weeds in while weeding in the garden. Soil will fall through the mesh, while the weeds themselves will be held back. A garden trolley can also be used to carry landscaping supplies including tools, soil, plants, stones, and so forth. Gardeners may also use garden trolleys when they need to unload their cars. Things like soil mixes can be very heavy and tough to carry, and a gardener may appreciate being able to transfer them to a trolley and wheeling them to their destination.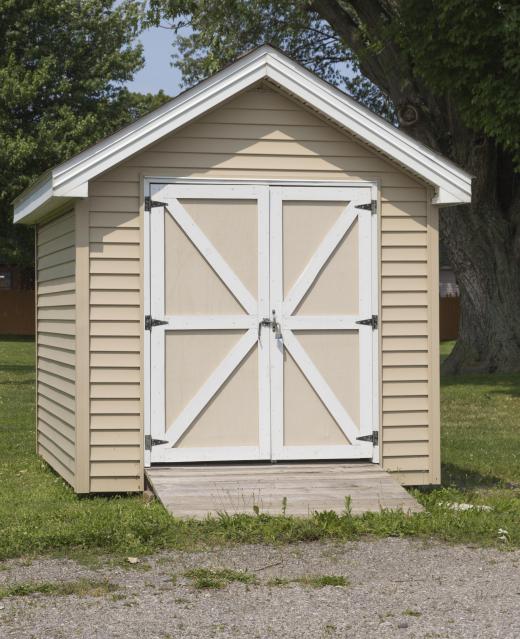 There are a few things to think about when purchasing this particular gardening equipment item. Size, as discussed above, is important. People should also check the construction quality, looking for a trolley which is sturdy and strong, with large wheels which will not catch or destabilize the trolley on rough ground. People may also want to think about specific features they want in a garden trolley, such as a tool caddy, folding sides, and so forth. Sometimes it helps to ask around among gardening friends to see if they have any recommendations or advice based on their experiences with trolleys.
AS FEATURED ON:
AS FEATURED ON:

By: grizzlybaerin

Sometimes a wheelbarrow is more useful than a garden trolley because it has less of a chance of damaging grass and plants.

By: fallesen

Garden trolleys should be small in enough to fit through the doorway of a garden shed.