What is Functional Kitchen Design?
Functional kitchen design refers to kitchens that not only look stylish, but are also planned out and furnished for maximum efficiency. For example, functional kitchens don't just have enough storage space, but have well-thought out storage such as enough room for pots and pans. Other aspects of a functional kitchen design include a convenient traffic flow and enough counter and work space.
Work space and storage space "islands" are a popular part of functional kitchen design in larger kitchens. To contain the island area effectively, the kitchen has to have enough space around the island to allow cupboards to be opened and people to be able to work comfortably in the space.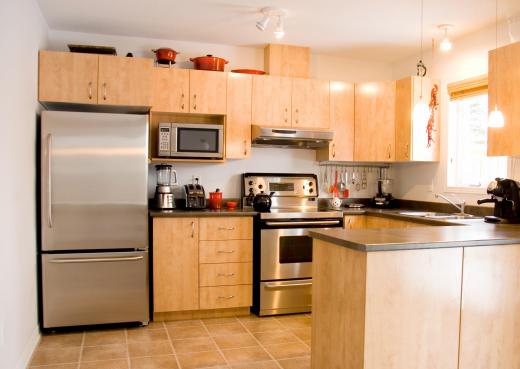 Counter space is not only needed to hold some appliances and kitchen tools, but also to use as work space such as for rolling out dough. There should also be enough counter space in a functional kitchen to hold dishes of food ready to be placed on the dining table. Counters should also be good quality to prevent chipping and scratching.
Traffic flow in functional kitchen design allows several people to be able to work together conveniently in the kitchen. The appliances should be well placed to save needless steps. The fridge door should not block traffic in the kitchen and should open on the side that allows easy access. If the kitchen has a breakfast bar, there should be enough space to sit comfortably at a good counter height.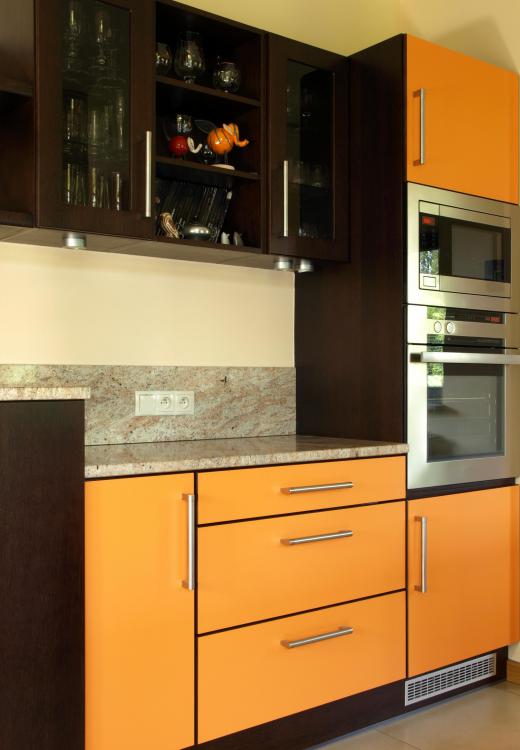 Storage space should allow everything to be reached easily. Top-notch functional kitchen design includes storage details such as a Lazy Susan in a corner cabinet and racks to hold pot lids. Other great storage ideas include recycling organizer bins and a swing-arm garbage can under the sink.
When planning your kitchen design or re-design, think about how you need to do things and how your kitchen will work. For example, give some thought as to where certain types of kitchenware should be stored. If you'll be getting your drinking water from the tap, you can place glasses in a cupboard close to the sink, but if your drinking water will come from a pitcher or tap in or on the fridge, glasses stored in a cupboard near the fridge would be a better choice.
AS FEATURED ON:
AS FEATURED ON:

A kitchen with a functional design.

By: Photographee.eu

Functional kitchens are designed to be efficient and get maximum use of space.