A drop-in sink is the most popular type of sink on the market because it is easy to install and is generally the most affordable option. It is called a drop-in sink because it is dropped into a cut-out in a countertop when installed; it rests on the rim of the cut out and is sealed around its edges to prevent leaks. A drop-in sink is sometimes called a self-rimming sink, and it is available in a variety of shapes, sizes, designs, and colors to match the aesthetics of the home in which it is being installed.
One of the benefits of the drop-in sink is its natural ability to hide the cut-out, especially on laminate countertops. The cut-out is not always smooth or attractive, so when the drop-in sink is placed in the hole, the rim of the sink covers the unsightly opening. This makes installation both easy and practical, as the drop-in sink need only be sealed once in place, and the seal also covers the cut-out. The sink must be properly sealed to prevent leaks and to prevent mold from growing in the gap between the sink and the countertop.
A drawback to the drop-in sink is also one of its benefits: it fits in most cut-outs because they come in a standard size. While this means easier installation and less worry about compatibility, it can be limiting from a design standpoint. Fortunately, drop-in sinks can be made in a variety of shapes, colors, and materials, customized to fit the aesthetic of the bathroom. Stainless steel sinks are common in the kitchen, whereas porcelain or cast iron are common in the bathroom. The fixtures used in the sink can also be customized to add a more visually appealing appearance, and most drop-in sinks can be easily customized with different fixtures. Another way to customize these sinks is to raise the lip of the sink off the countertop, placing a second material between the sink and the countertop. This adds visual flair to the sink set-up.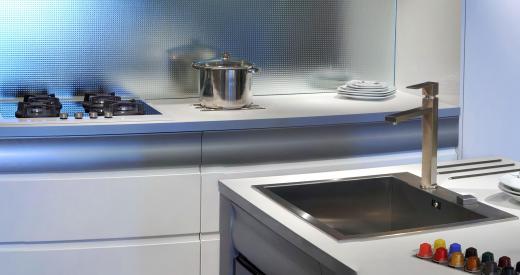 Drop-in sinks are made for installation on laminate or ceramic tile countertops. For granite countertops and other strong, decorative materials, an undermount sink is usually installed. The undermount sink mounts to the countertop from underneath, primarily to keep the clean aesthetic of the countertop intact. These are usually more difficult to install than drop-in sinks, though they are arguably more attractive, depending on the type of countertops under which they are installed.
AS FEATURED ON:
AS FEATURED ON:

By: Joe Gough

Drop-in stainless steel sinks are common in the kitchen.

By: Tilio & Paolo

Drop-in sinks can be used with almost any type of countertop.