What Is a Self-Rimming Sink?
A self-rimming sink is a style of sink that is all one piece, and is made with a rim that sits directly flush with the counter to which it is attached. These sorts of sinks provide a sunken basin that can attach easily into a counter or tabletop; the rim is intentionally designed to fit perfectly against the exterior surface. Installation is typically very simple and doesn't require many tools or special supplies. Removal, similarly, is usually pretty straightforward. Most models aren't very fancy, but their simplicity lends a sort of linear aesthetic that can be appealing; they're also usually very easy to clean and maintain, with no cracks or crevices where mold or mildew can build up. In addition they generally resist leaks very well, and tend to be much less expensive than many other styles and models.
Rim Benefits and Main Role
The most defining characteristic of this sort of sink is the rim that comes above the countertop. These types of rounded-corner sinks can be placed almost anywhere: in bathrooms, workshops, and kitchens, to name a few.
The rim of this style of sink is what allows for a tight seal on the counter and prevents leaks from occurring around the edges of the unit. Since this is on the sink itself, clips, putty, and screws — the tools of many plumbers — are many times not needed during the installation process.
Aesthetic Value
These sinks tend to have a simple, streamlined look. Most are stainless steel but can be made of almost anything; they come in a range of sizes, too. Sometimes they take on a sort of utilitarian appearance, but this can often be overcome with fancy fixtures or other more modern style elements in the room. They are often deeper than other sorts of sinks, but a lot of this depends on the specifics of the construction of the surrounding countertops and the piping situation in the home or building at issue.
Installation Basics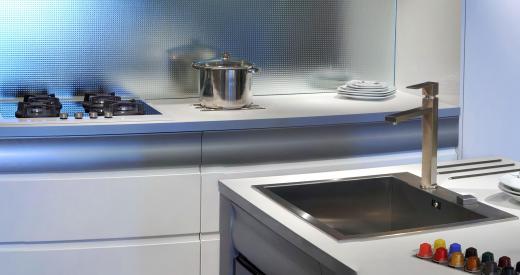 One of the biggest perks of a self-rimming sink, at least for most buyers, is its ease of installation. If the countertop needs to be cut out, a template is usually provided with the exact measurements of the space that the new sink will need. Once the faucet is placed in the sink, a person simply has to drop the basin into place. The plumbing can then be hooked up underneath.
Weight must then be placed on the sink to allow the rim to seal. If putty is used under the lip to further protect against water, the weight placed on it will also ensure a tighter seal. Caulk may also be placed around the outside of the rim to ensure that no water or moisture is able to get through. If clips, bolts or screws are used, they will add extra security, keeping the sink in place.
If problems do occur with the sink, or if a person has decided to remodel and get a different sink, these types are usually some of the easiest to remove. All a homeowner must do is unhook the plumbing, clips, and bolts, and lift the sink off the countertop. If putty was used, a utility knife may be utilized to break the seal and scrape off the putty.
Leak Resistance
Leaking sinks are an issue that most all homeowners seek to avoid. Most self-rimming sinks are simply made with a mold, which means that there are usually not too many seams that can break down and cause problems. Fewer leaks allow homeowners to save time, money, and worry in the long run.
Purchase Options
Self-rimming sinks are usually very inexpensive, which can make them attractive for home and business owners as well as general contractors. Competition between manufacturers usually allows for low prices, and the easy way in which these sinks are made contributes, too. They also come in a variety of sizes, colors, and designs, which generally allows a person to be able to find the right sink to match his home or particular design ideas.
AS FEATURED ON:
AS FEATURED ON:

By: djtaylor

Self-rimming sinks are the easiest to install.

By: Tilio & Paolo

Most drop-in sinks are self-rimming.

By: vvoe

Stainless steel double basic sinks are usually self-rimming.