A cove ceiling is a style of ceiling characterized by curved molding which joins the wall and ceiling, smoothing the transition between the two and eliminating sharp corners. This design requires more technical skill to execute, making cove ceilings more expensive and more common in luxury homes or homes built in an era when manual labor was less costly. In addition to being an interesting design feature, a cove ceiling can also be used in some interesting ways.
The style is named for cove molding, molding which has a curved appearance. In a classic cove ceiling, the curve is gentle and totally smooth, creating a rounded look which feels soft and very natural. Some homes utilize other types of trim or molding around the cove, which can create the illusion of a tray or coffered ceiling. The additional molding is usually painted in a contrasting color so that it stands out, and it may include ornamental elements such as carved shapes or stenciled designs.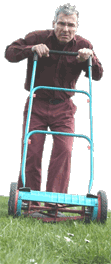 Contractors often create the look of curved molding by installing curved mesh, plastering over it, and then painting. Cove ceilings constructed in this way can be challenging to repair if the plaster starts to fail, as the plaster may flake off in large chunks, causing the rest of the plaster to become unstable. It is also possible to use solid wood molding which has been finished in a curved shape to make a cove ceiling, although this option is more expensive.
This look tends to create a more formalized feel in a room, especially if it is paired with additional molding. It can also soften the lines of a ceiling with a great deal of angles, or a room in which multiple walls meet at awkward intervals or angles. Cove ceilings can also be paired with tray ceiling designs or other features, although an excess of design elements can create a cluttered appearance which will detract from the natural beauty of the wall.
People who want to install a cove ceiling in a room will usually need about a weekend to do it. Metal contracting mesh, tape, and plaster will be needed, along with paint which matches the paint in the room. Depending on how recently the room has been painted, the new paint may stand out, and it could become necessary to repaint the entire room. The process will also generate a great deal of dust as the plaster is applied and sanded down, making it advisable to cover or remove furniture.
AS FEATURED ON:
AS FEATURED ON:

Man mowing the grass