What Is a Ceiling Shower Head?
A typical wall-mount shower head emits water from a wall in the shower, but a ceiling shower head allows the water to pour straight down from overhead. Often described as rain head showers, ceiling shower heads offer settings which range from gentle rains to pulsating storms. The shower heads are available in a variety of styles, including suspended glass and metal panels and circular chrome heads. Temperature-sensitive, light-emitting diode (LED) accessories are also offered for ceiling shower heads.
Dripping water pouring directly from overhead from a ceiling shower head is supposed to be reminiscent of a gentle, yet drenching, rainfall. Some shower takers prefer a stronger water flow in the shower, so many heads feature adjustments to increase the power and pulse of the "falling rain." The size of a ceiling shower head determines how large of a swath of water will rain down on a bather. Many types of ceiling shower heads are between 8 and 10 inches (about 20 to 25cm) in diameter, while others are dramatically larger, ranging to as large as 20 by 39 inches (about 51 by 99cm).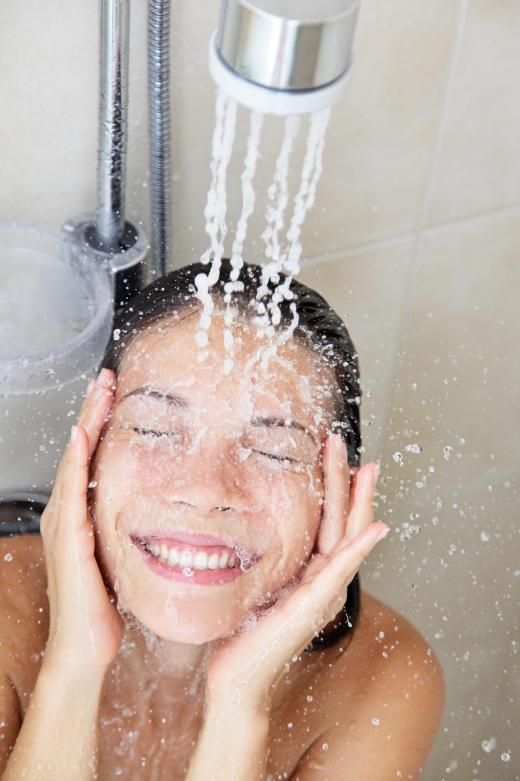 The shower heads are offered in a variety of styles, including round chrome fixtures, suspended rectangle panels and contemporary glass and chrome combinations. Some shower heads are thin, round versions, while others are chrome squares with glass borders. Ceiling shower heads are also available in tilting square styles, flush mounts that resemble cold air vents and round fixtures with shower head skirts to help contain and direct the water downward. A variety of shower head finishes are also available, including bronze, French gold and brushed nickel.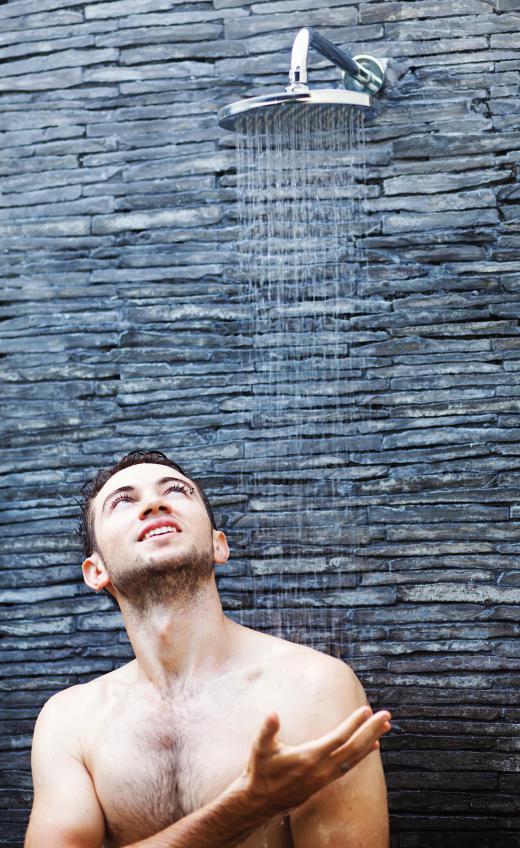 In addition to using it alone, a ceiling shower head is often combined with other shower components. Some systems use body sprayers and a wall-mounted shower head in conjunction with the ceiling shower head. Other systems provide a hand-held shower head option in addition to the ceiling-mounted version. Ceiling shower heads with multiple nozzles and anti-limescale technology are also available.
Options for ceiling shower heads include LED lights, which are powered by the shower water and change color with the water's temperature. This lighting can also be an added safety feature when children are bathing, as red LED lights signal the water is hot. A large, tile-style shower head implements a series of colored light sequences to enhance mood, and the fixture features 88 spray heads as well. Some ceiling head showers also have a preset maximum temperature as a safety precaution.
AS FEATURED ON:
AS FEATURED ON:

By: Ariwasabi

A ceiling shower head can be combined with a handheld shower head or other components.

By: Mila Supynska

Some showers feature an overhead shower head.