A shower timer is exactly what it sounds like: it is a device which can be used to time showers. Shower timers are used to keep track of and sometimes to restrict water usage. They come in a variety of formats and styles intended for various situations, from hotels to private homes. Some hardware stores carry shower timers, and they can also be purchased through companies which carry products designed to encourage or facilitate energy and resource conservation.
At its most basic, a shower timer simply indicates how long someone has been in the shower. People can either hit a button to start the timer, or the timer can automatically start when the water is turned on. Depending on where it is installed, the shower timer's display may be in the shower itself, encouraging people to shower quickly, or it may be on the outside of the shower, allowing someone to check on his or her water usage after the shower is complete.
In addition to being used as a passive monitor, a shower timer can also have a more active role. It can be set to turn the shower off after a set period of time, encouraging people to shower within the allotted time. Depending on the design, the shower timer may require a waiting period or a complex series of steps before it can be turned back on again after it has turned the shower off. Many shower timers which automatically turn the shower off will beep or flash when the time is almost up, alerting people to the need to be quick.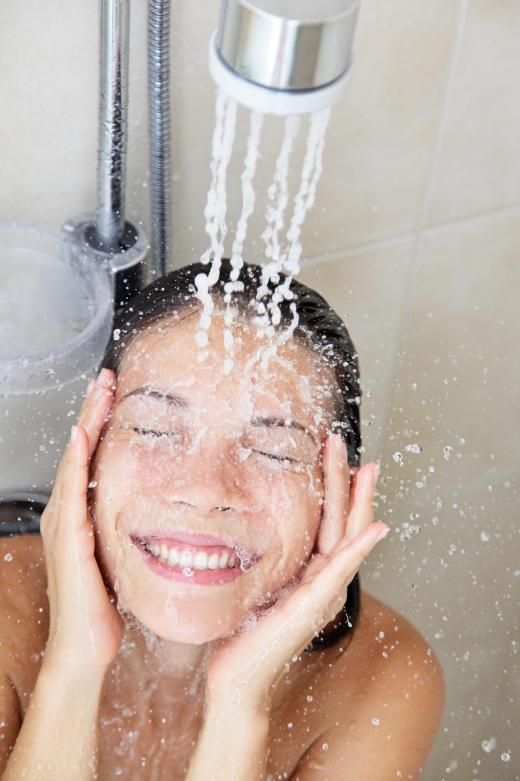 In homes where a lot of people share one shower, a shower timer can be a useful reminder to hurry and to conserve hot water, ensuring that everyone who wants to take a shower in the morning can do so. Shower timers can also be used to encourage people to be more mindful about water usage, resulting in an overall reduction of water use for a household.
For people who take combat showers or baths, shower timers can be problematic, unless they are linked to the flow of the water, rather than the amount of time spent in the bathroom. Someone who turns the water on and off several times during their shower might stay in the bathroom longer than others, but use less water in the end, and someone who takes a bath could potentially linger for hours.
AS FEATURED ON:
AS FEATURED ON:

By: esp2k

Shower timers may be used to restrict water usage.

By: Ariwasabi

A shower timer can be set to turn off the flow of water after a given period of time.