What Is a Built-In Dishwasher?
Unlike its freestanding and portable counterpart, a built-in dishwasher is one that is designed to act as an integrated, more permanent kitchen appliance. Both freestanding and built-in dishwashers present pros and cons. Though, due to the more permanent nature, space-saving features, and typically larger load capacity, a built-in dishwasher is the more common choice among homeowners. Built-in dishwashers are available in a wide variety of sizes and styles at most home improvement and renovation stores. Buyers might choose to install the dishwashers themselves, or they might hire professionals or make use of any installation services the store offers.
Basically, there are two types of dishwashers. The first is a freestanding dishwasher, which isn't actually connected to the flow of other kitchen appliances and features. The second is a more permanent built-in dishwasher, which is connected to the flow of other kitchen accessories.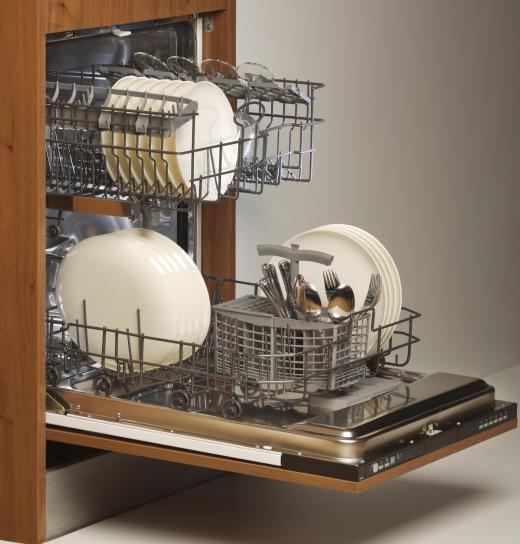 Both types of dishwashers present advantages and disadvantages. For example, a freestanding dishwasher is portable and generally less expensive than a built-in dishwasher, if only because there are next to no installation costs. Generally, the only installation-related concern is that of making sure there is enough space for the freestanding model to sit near an appropriate water and drainage source. Since freestanding models are available in a variety of different sizes, this isn't often an issue. Therefore, portability and price make a freestanding dishwasher a popular choice for someone who rents a house or apartment that doesn't already have an integrated dishwasher and who doesn't want to invest money, labor, and permanent appliances in a temporary residence.
On the other hand, since it's designed for installation under a counter, a built-in dishwasher takes up no kitchen floor space. A fully integrated dishwasher can blend in with the rest of the kitchen appliances and features. Although they're also available in different sizes, these more permanent models are usually larger than portable versions. This means they can wash more dishes during a single cycle than can their freestanding counterparts, and potentially help the owner save money on energy and water costs. For these reasons, built-in dishwashers are popular choices for homeowners, especially those with families, who plan on living in their current houses for long periods of time.
Shopping for a built-in dishwasher is much like shopping for any other kitchen appliance. They're available from most in-person and online stores that focus on home improvement and renovation. Since built-in models are available in such a wide array of sizes and styles, it's easy for most buyers to find models that match their kitchen decors as well as fit their budgets. Built-in dishwashers include installation instructions, and many home improvement websites provide instructions for installing an undercounter dishwasher. Still, do-it-yourself installation might not be an option for everyone, and when this is the case buyers can look to professionals or even any installation services the store might provide.
How To Install a Built In Dishwasher 
If you want to install a dishwasher yourself, there are a few steps you need to take. Before starting, ensure you have all of the materials you need on hand beforehand to make the process smoother. You'll need items like screwdrivers, a bowl, gloves, the instruction manual, and other tools. The process for installing a dishwasher is as follows:
Remove the old dishwasher- disconnect the old dishwasher from the water and electric supply. Use a small bowl to catch any water when disconnecting the water supply. Remove the screws from any brackets that are holding the dishwasher in place and that have connected the appliance to the countertop and cabinets. Use a piece of cloth or cardboard when moving the dishwasher to avoid damaging the floor.
Prepare for the new dishwasher- Slowly tip the new dishwasher onto its back to access the wiring on the bottom. Remove the front access panel and follow the instructions to attach a 90-degree elbow fitting. Follow the directions that came with your installation kit to attach the new water supply line to the shut-off valve. Next, you'll need to fasten the drain hose to your new unit.
Connect the water, drain, and electric lines- After completing the preparation, tip the dishwasher upright and slide it into place. Next, you'll need to connect the water supply and turn it on to check for leaks. Connect the drain hose and electrical connections following the instruction manual. After connecting all the hoses, turn on the electrical supply and check to see the dishwasher works.
While it may seem complicated at first, installing your dishwasher can be done. You only need a little experience with plumbing and electricity. Before starting, you should be sure that you have everything you need and understand the instructions.
Are Built In Dishwashers Hardwired?
A built-in dishwasher is not a plug-in appliance and must get hardwired to your home's plumbing and electricity. It means that your dishwasher must be connected to your home's electrical supply directly. There is no plug, and the dishwasher does not get electricity through a wall socket or something similar. The electrical wiring goes from the back of the receptacle to your home's electrical box. There are some pros and cons to having a dishwasher hardwired:
Pros- It's clean and neat, and you don't need an electrical outlet. There are fewer wires, and no electrical outlet makes installation more straightforward. An electrician will not have to install an outlet just for your dishwasher.
Cons- It requires knowledge of electricity, and the shut-off is away from the appliance. Also, where you put it is permanent. If you don't know anything about electricity, you'll have to hire an electrician. It can be costly. If you are conducting repairs on your dishwasher and need to shut off the power, you'll have to keep going to your electrical box. Finally, it could be a complex process if you want to move the dishwasher.
There are plug-in receptacles that are simpler to install, but they are not installed directly into your kitchen. They also come with their pros and cons, so research to see what type of dishwasher best suits your home and needs.
Can You Convert a Portable Dishwasher to Built In?
Converting a portable dishwasher to a built-in type is possible. You only need the tools a bit of skill to do it. A reason why you might want to convert a portable dishwasher to a built-in is convenience. You will no longer have to attach and detach hoses and water lines each time you want to do a load of dishes. Here's how you convert a portable appliance to a built-in.
Find a power source for the portable dishwasher- You'll either need a plug or the knowledge to connect the appliance to your electrical system.
Connect the water line to a permanent source- You can either run an independent line from your water heater or tap into your kitchen sink's hot water line.
Make a permanent drainage system- You will need PVC pipe and the ability to connect the pipe to your kitchen sink's drain.
Use trim to make it look like built in- Use pieces of wood or other trim pieces to mask the fact that your dishwasher used to be portable.
Converting your dishwasher doesn't have to be challenging, but you need to know what you are doing. Otherwise, the process can become complicated. Before starting the process, determine if converting a dishwasher is necessary. You may save time and money by buying a model that is ready to go.
AS FEATURED ON:
AS FEATURED ON:

By: mitev

Built-in dishwashers are placed alongside kitchen cabinetry.