Is It Better to Hand Wash Dishes or Use a Dishwasher?
The point of washing dishes is to not only clean the dish, but also to get rid of harmful germs and bacteria that may cause illnesses. Whether one chooses to use a dishwasher or hand wash dishes usually depends on several factors, including how much time a person has to spend washing dishes, whether or not one method is more convenient for a person, and what types of dishes are being washed. In general, choosing to wash dishes by hand can be a quicker because there is no waiting for the dishwasher to finish its cycle, but a dishwasher can save a person time because it does most of the work.
Washing Dishes by Hand
Someone can hand wash dishes as safely as using a dishwasher by using hot water, dish soap, and bleach to get rid of germs. This method is often preferred when washing a dish made of material that is not dishwasher safe, as a label on the dish will usually state; for example, many plastic or stainless steel water bottles have a label recommending that they are washed by hand to avoid melting or rusting in the dishwasher. People may also want to wash dishes by hand when it is not possible to wait for the dishwasher to clean the dishes, as a typical dishwasher cycle can take anywhere from one to two hours.
Hand washing also has its negatives. First, people should use very hot water in order to kill germs and bacteria — a good rule is to have the water as hot as the individual can handle. This high of temperature can easily burn the hands within a matter of seconds, however. Due to the risk of working with such hot water, experts recommend that children not help with washing the dishes using such hot water. Second, the time it takes to heat water and monitor its temperature in order to wash dishes safely may be extensive; so while washing by hand can cut down on time compared to a dishwasher, it can also take time to heat water and keep it hot while washing.
Using a Dishwasher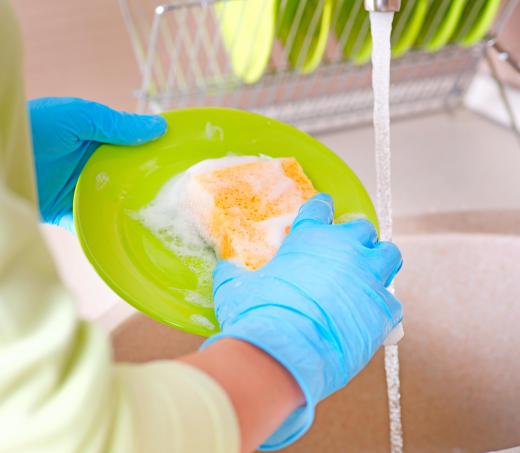 Many people turn to the dishwasher as a safer and easier practice than hand washing. For some, it is more convenient to put dirty dishes directly in the dishwasher, turn it on, and walk away, releasing them of the duty of washing dishes. The only time investment for a dishwasher is the amount of time it takes to put the dishes in the dishwasher and the time it takes to put them away; this is often preferred as long as there are other dishes to use while the dirty ones are being washed. The dishwasher can use extremely hot water to ensure that bacteria and germs are not a problem without burning anyone, and it can also use hot air to not only dry the dishes, but to kill germs and bacteria as well.
On the other hand, the hot water can potentially ruin some dishes, such as those made of plastic or certain metals. Some items should not be washed in the dishwasher at all, and some items are safe to wash on the top rack only; most dishes that require special treatment will have a label with washing instructions, usually on the bottom of the dish. If there is no such label, then it is usually safe to wash in the dishwasher.
Another thing to consider when using a dishwasher are the potential side effects of dishwasher detergents. Some leave a residue on dishes after they are washed, which can make them look like they were never washed in the first place. Also, many dishwasher detergents contain fairly toxic chemicals, and must be kept out of the reach of children; this suggests that residual chemicals on dishes could harm children or adults. There are many biodegradable and non-toxic dishwashing detergents on the market to help solve this concern, and they generally perform as well as those that have more toxic ingredients.
AS FEATURED ON:
AS FEATURED ON:

By: Julija Sapic

Some materials cannot be put through a dishwasher.

By: Africa Studio

Dish soap and a sponge.

By: Subbotina Anna

Washing dishes by hand is just as safe as washing them with a dishwasher.

By: Africa Studio

Hand washing dishes can dry a person's skin out, so lotion should be applied afterward.

By: JJAVA

Dishwashers can be highly efficient at washing dishes.

By: design56

Minute amounts of bleach can be added to water to sanitize dishes.

By: Dario Lo Presti

Dishes that have been sitting out may require a long soak in soapy water before they can be washed.

By: kmiragaya

Washing dishes by hand might be better for hard to remove substances.