What Is an in-Sink Dishwasher?
As an alternative to traditional models, an in-sink dishwasher doubles as a combination dishwasher and an extra-deep kitchen sink. It has a small capacity and takes up less space than an undercounter dishwasher. In-sink dishwasher models are often advertised as being more time, water and energy efficient than their full-sized counterparts.
Companies that produce in-sink dishwashers advertise a number of advantages to this newer style. In-sink washers tend to be more efficient than traditional dishwashers, due to their smaller size. Though washer lifespan varies from model to model, in-sink dishwashers are often advertised as being overall more durable. Lastly, when the lid to the dishwasher is closed, it can be used as an additional kitchen workspace. Some lids are designed to also be used as cutting boards or heat-resistant surfaces for hot pots and pans.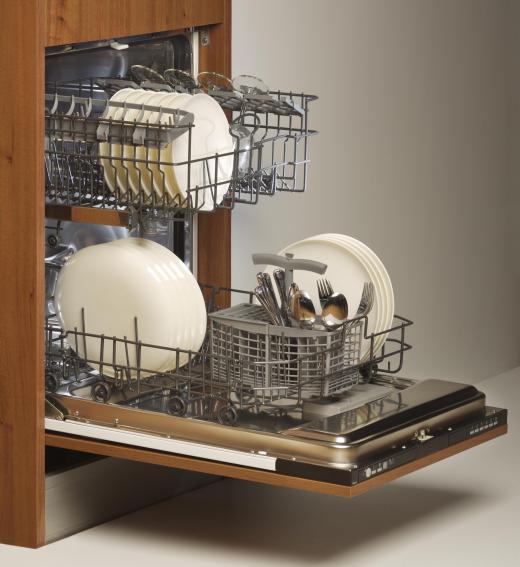 Installing an in-sink dishwasher is generally simpler than installing an undercounter dishwasher, but is still often best done by a professional plumber. If it is installed in a location where there is already a sink, the existing sink is removed and then replaced with the two-part washer. One side of the washer functions just like a normal sink, while the other has a deeper basin equipped with a lid and some form of dish rack. The dish rack can be removed to allow the washer to function as a deep sink for washing pots and pans. Since they are at cabinet-height, the user does not have to bend down to load dishes.
An in-sink dishwasher is designed to fit in the same space as a double sink. A standard size for an in-sink dishwasher is 36 to 42 inches (0.9 to 1.1 meters) wide, including the second sink. By contrast, a traditional kitchen setup has a 36 inch (0.9 meter) sink plus an undercounter dishwasher of comparable width. For this reason, in-sink models may be preferred in efficiency-style kitchens so that more space can be used for storage.
Typically, an in-sink dishwasher can wash five to six place settings — plates or bowls plus glasses and silverware — in one load, roughly one-third the capacity of a full-size washer. Whereas a one- or two-person household might take several days to fill up a standard dishwasher, allowing food time to dry onto the dishes, the same household might run an in-sink washer daily. For homes with more people, however, a washer with a larger capacity might be a better option.
AS FEATURED ON:
AS FEATURED ON:

By: mitev

A small household may take several days to fill up a dishwasher.