A bistro table is a small table that usually has a round top and seats two to four people. It is the kind of table that is commonly found in cafes and, of course, bistros. This kind of table is commonly made out of metal but is sometimes made out of wood. The top may be made out of the same kind of material as the base. In some cases the top of a bistro table is made of glass or is decorated with a mosaic.
These kinds of tables are most commonly used in restaurants that offer casual dining experiences. They are also sometimes used as patio furniture or as part of an outdoor dining area of a restaurant. Metal bistro tables are most commonly used in outdoor settings because they stand up to the elements better than wooden bistro tables. In most cases, a bistro table comes in a set that includes two matching chairs. Some outdoor furniture sets come with four folding chairs.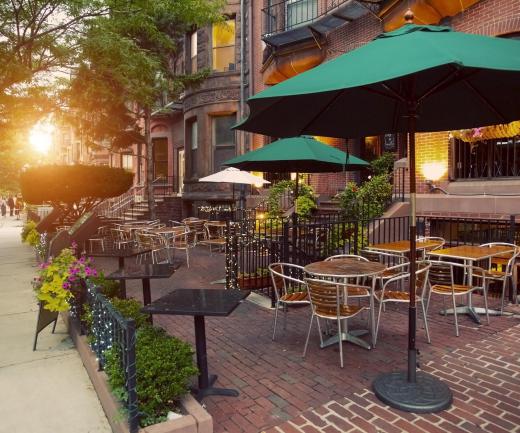 Some furniture companies sell bistro tables of varying heights. A bistro table may be similar in height to other kinds of dining tables. Alternatively, it may be about the same height as a bar. These taller tables come in sets with bar stools or chairs that are as tall as bar stools. This kind of tall bistro table is also used in restaurants and cafes that offer casual dining.
These kinds of tables are sometimes used to offer seating for people who are attending musical events or theatrical performances. Jazz clubs, for example, sometimes use bistro tables as seating. In these cases, guests may order dinner or just drinks to enjoy as they watch the show.
One of the benefits of a bistro table is its size. Many restaurants and performance venues use them because they take up very little space. This allows the restaurant or club to serve more people and, in turn, make more profit. Also, most bistro tables are rather light and can be easily rearranged.
In domestic settings, a bistro table can be used to create seating in an area where there is limited space. A small balcony might be the perfect place for a bistro table and two small matching chairs. Some people use slightly larger bistro tables as kitchen tables, especially if the kitchen is too small for a dining table that seats four or more.
AS FEATURED ON:
AS FEATURED ON:

By: SOMATUSCANI

Bistro tables are commonly seen in coffee shops and sidewalk cafes.