The bistro chair is a versatile chair that is used in restaurants, cafés and residential homes around the world. It fits comfortably in every era, and it even ages well. According to some, as the chair matures and the structure loosens, it becomes softer and molds itself into an even nicer piece of furniture. Though most manufacturers have yet to improve upon or even replicate the original wooden chair, many have produced copycat styles using plastic or metal. These chairs are used both indoors and outdoors as functional and stylish seating options.
The bistro chair has a rich and interesting history. It began with Michael Thonet, a German-Austrian who lived between 1796 and 1871. Michael began his career as a cabinet maker after a carpenter's apprenticeship. He worked independently for many years, building his reputation as a quality craftsman, and in the 1830s he aspired to make furniture out of bonded wooden slats. His first success was in 1836 when he created the Boppard layerwood chair. This chair was a close cousin the bistro chair of today.
In 1849, Thonet joined together with his five sons to begin his own bentwood furniture business. The following year, he produced Chair No. 1, which was awarded the bronze medal at the World Exposition in London. Four years later at the Paris World Exposition, he earned a silver medal. He was constantly improving on production and expanding his company. But perhaps his biggest success was in 1859, when he created the Bistro Chair No. 14.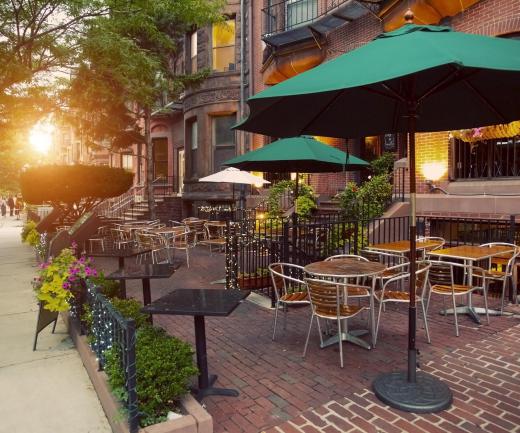 The simple, classic and distinctive design of the bistro chair was made up of only six wooden components and held together by two nuts and ten screws. It earned the Thonet brothers the gold medal at the 1867 Paris World Exposition. The sleek No. 14 bistro chairs chairs were selling around the world in numbers reaching 50 million by 1930.
The practical and economical, yet beautifully shaped and easily disassembled chairs probably account for their enormous success. By the time Michael Thonet died in 1871 at the age of 75, his company with such a modest beginning boasted offices in almost 20 countries. The Bistro Chair No. 14 is still considered to be the "chair of chairs," its timeless model still being used in countless restaurants, homes, offices, and coffee shops around the world.
AS FEATURED ON:
AS FEATURED ON:

By: Adam Wasilewski

Bistro chairs may be used both indoors and in outdoor settings.

By: SOMATUSCANI

Bistro chairs are commonly seen in coffee shops and sidewalk cafes.