What are the Different Types of Shower Head Mount?
A shower head mount can fall into two main categories: hand showers and fixed shower heads. Hand-held showers are made up of a shower head attached to a bendable arm that can be placed in a mount while not in use. Fixed shower head mounts can be placed on the shower wall or the ceiling.
Hand showers have many different options for mounting. This type of shower head mount can be attached to an already existing shower head to give the bather more flexibility, or can replace the current mount altogether. The arm-mounted hand shower is a device which can turn the fixed shower head into a combination fixed and hand-held, and the two can operate simultaneously or separately.
Wall-mounted hand showers replace the original fixed wall mount, and are especially useful in smaller showers with limited space. The wall shower head mount allows the hand shower to be placed anywhere on the wall that is convenient. In addition, there is an option for a wall-mounted bar hand shower, which has the hand shower attached to a wall bar save space and provide a grab bar. The bar allows the shower head to be raised and lowered along the bar.
Another type of hand shower head mount is a deck mount. A deck-mounted hand shower attaches directly to the deck, or top edge, of the bathtub. This provides sitting bathers convenient access to the hand shower.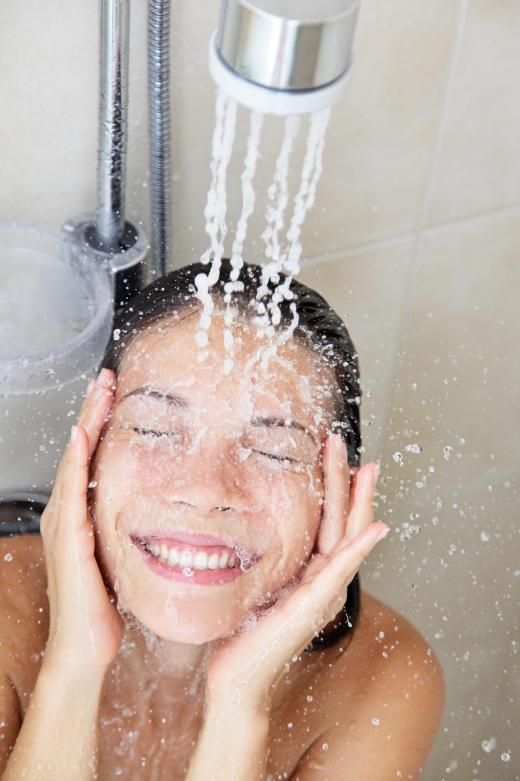 Fixed mount shower heads are what typically come standard in most bathrooms, and different heads can be attached according to personal preference. These fixed mounts come directly out of the wall and do not allow for much flexibility. If a bather is looking for more flexibility but does not want to have to hold the shower head, a fixed shower head can be mounted on an arm, which would extend from the wall and can be adjusted for height.
Some fixed shower mounts can be attached on the ceiling, typically with a rain shower head, which replicates the feeling of falling rain water. Some basic forms of these mounts connect directly to the existing shower water line, but extend the head up to the ceiling. An advanced version of these ceiling mounts actually is attached to a water line within the ceiling; this type of installation often calls for a professional plumber.
In most cases, a standard shower head mount can be replaced or updated. Some basic plumbing skills may be required to remove an old mount. Shower head mounts can be personalized according to the bathroom's décor and style, and what the bather needs from his or her shower experience.
AS FEATURED ON:
AS FEATURED ON:

By: Filipebvarela

A shower head.

By: Ariwasabi

In most instances, standard shower head mounts can be updated or replaced with relatively little cost.