What Are the Different Types of Origami Christmas Crafts?
Several types of origami Christmas crafts can be do-it-yourself projects created with colored construction paper. Children and adults can make holiday table centerpieces, window or door decorations, and paper Christmas tree ornaments. Origami Christmas paper crafts are made by folding the paper in various ways to create figures or decorations. Tree toppers such as simple stars or angels are another type of origami art that can be created at holiday time. Paper greeting cards for Christmas may be made by adding glitter glue or other decorations, and holiday placemats can be decorated in many ways.
Many grade-school children enjoy origami projects, especially those specially designed with a Christmas theme. Children and adults may learn the basics of origami by taking classes or by finding instructions for do-it-yourself projects from a book or even online. One of the most basic and simple origami Christmas decorations would be a Christmas tree centerpiece. The centerpiece will add a festive look to any holiday decor and is one of the Christmas craft activities many adults enjoy. After folding the paper in a few basic steps, the finished tree can be decorated as desired.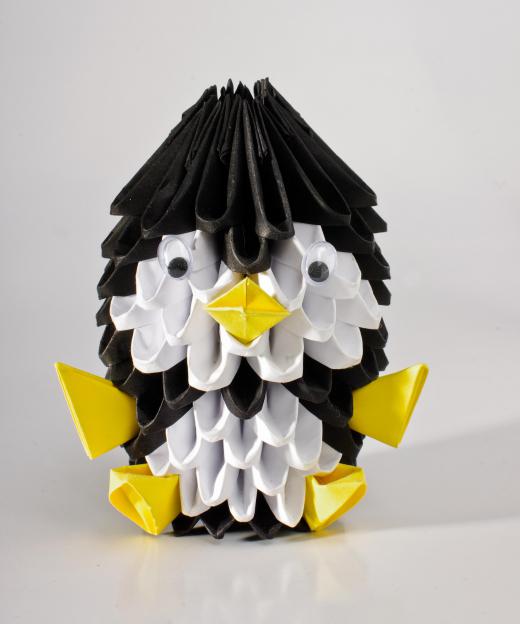 A paper candy cane is another fun origami Christmas craft that may be used as a Christmas tree ornament or for hanging on a door or window. It can be created by using plain white paper decorated with a red marker. Young children may prefer to use crayons or watercolor paints to decorate their origami candy cane.
Individuals who are experienced in making homemade crafts may enjoy creating origami Christmas decorations that are more advanced. One such project is a reindeer that may be used as table decor. For this project, it is best to use light brown or tan paper. The paper origami reindeer will only include the head of the animal, and after the shape is finished, a black marker may be used to draw the eyes and nose. Alternately, the eyes and nose can be made by gluing pieces of black felt to the face.
Christmas origami wreaths may be made in various sizes. This type of craft is also intended for more experienced individuals. It can be made from red and green construction paper and decorated with scraps of material or gold and silver glitter glue. Along with Christmas wreaths, origami snowflakes are a good choice for decorating windows.
AS FEATURED ON:
AS FEATURED ON:

By: amphotolt

Many children enjoy origami projects.

By: smuay

Colored construction paper is sometimes used in origami crafts.

By: oksix

Origami snowflakes could be used as Christmas decorations.

By: lily

Origami Santas can make for a fun Christmas craft.