Origami is the Japanese art of folding paper into representative, i.e., not abstract, shapes. In Japanese, origami is a compound word, made up of the words for "to fold" and "paper." Typical shapes include birds - particularly cranes, other animals, boats, and boxes. The art involves elaborate patterns of folding and has ceremonial and recreational styles. More recently, cutting has been combined with folding in the creation of origami figures. Kirigami is the Japanese word for paper cutting.
Origami is created with many kinds of origami paper. Some is a solid color, and this includes washi, tissue paper, and double-sided papers. One-sided foil papers – in solid colors and embossed – are also used. Bokashi paper, with graduated color, is made in many styles and patters, some having multiple shading iterations and moving from corner to corner, center to edge, or in other designs.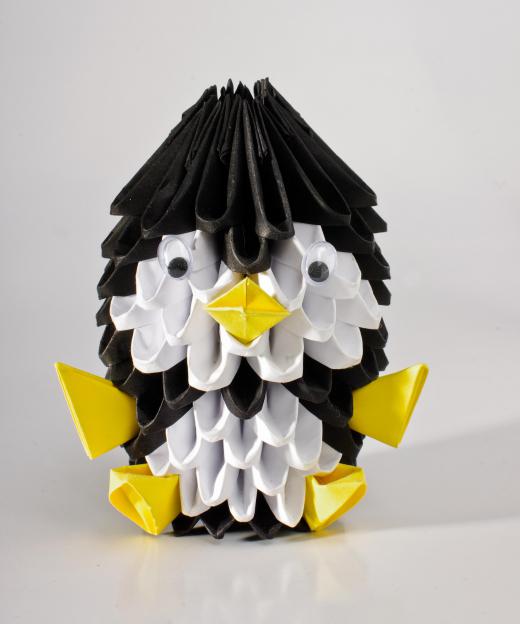 Another origami paper is Chiyogami or Yuzen, silk-screened washi that is also used for other decorative arts such as making kimonos for paper dolls. It derives from woodblock prints and was introduced toward the end of the 18th century. The patterns are usually printed on kozo paper, and the weight is about 70 grams per square meter (gsm). Chiyogami is a compound word meaning "thousand generation" and "paper."
Chiyogami is traditionally patterned with symbols of happiness, long life, and good fortune, but new patterns are continually invented as well. There are thousands of Chiyogami patterns. Some manufacturers make replications of Chiyogami using offset printing rather than silk-screening. These papers may be cheaper, but are not authentic.
Katzome-shi, stencil-dyed paper based on kimono printing techniques, can also be used as origami paper. This paper, also about 70 gsm, was developed several hundred years after Chiyogami, coming into use in Kyoto in the 20th century.
Many traditional origami designs are based on beginning with a square sheet of paper, but new designs include origami constructed of circular paper, rectangular paper, and even multiple pieces of paper joined together, sometimes called modular origami when each sheet of origami paper is folded into an identical form, and multi-piece origami when multiple sheets are used simply to extend the creation without replication. Fabrigami is a relatively new art using origami techniques and fabric as the medium. Cotton broadcloth with fabric stiffener is one recommended "origami paper" for this specialized practice of the art, but other fabrics can work as well. Making folded creations of fabric bonded to origami paper is another style of fabrigami.
AS FEATURED ON:
AS FEATURED ON:

By: amphotolt

Origami paper is used to create many different forms of origami.

By: oksix

Origami paper can be used to create complex shapes.

By: Chepko Danil

Origami paper can be used to make boats that really float.

By: bogdanserban

Origami is a form of paper-folding art that originated in Japan.