Placemats are pads which are used to protect the surface of a table, counter, or bar. They are installed at each place setting at a table, and they are designed to accommodate plates, glasses, silverware, and other dining equipment so that the table does not become stained, scuffed, scarred, burned, or otherwise damaged. Both homes and restaurants use placemats, and there are a dizzying array of options, ranging from paper placemats designed for disposable use to hand-beaded versions for upscale dinner parties.
The primary function of the mat is to protect the table. They tend to be thick, insulating the table from heat, and many are water-resistant so that spills will not seep through and stain the table. Many are also ornamental in addition to functional, and they are designed to coordinate with napkins and other table décor.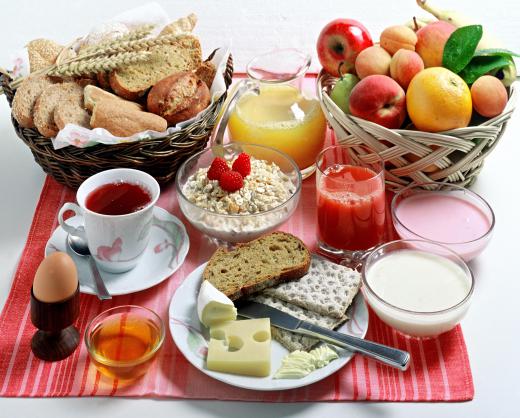 Wood, bamboo, cork, cotton, linen, knits, paper, beading, plastic, and a wide variety of other materials can be used for placemats. The mat is often flexible so that it can be rolled or folded for storage. An assortment of geometric shapes can also be used. Round, oval, square, and rectangular types are very common, but it is also possible to find octagonal versions, or designs which are cut into irregular shapes. Some types can also double as trivets for hot pots and pans, especially if they are folded over to increase the insulation.
Restaurants tend to use temporary placemats which are replaced after each use. Temporary mats in restaurants may be printed with information about the restaurant or the area. Some restaurants offer the mats as drawing pads, encouraging customers to use crayons, pens, or pencils on their placemats to amuse themselves while they wait for food. Temporary versions can also be used at home, where they are very handy for kids parties and potentially messy dinners, such as lobster feeds.
Home users tend to prefer permanent placemats, which may be laminated or sealed to increase their durability. Some people keep several different designs in storage, so that they can coordinate for different events, while others use a basic set for all occasions. A set of purchased or hand-made placemats can make an excellent housewarming gift, especially in the case of people who are setting up house with a brand new table. When choosing these table accessories as a gift, it is a good idea to think about the taste of the person who will be receiving them, and to consider purchasing coordinating napkins as well.
AS FEATURED ON:
AS FEATURED ON:

Breakfast on a placemat.