What are the Different Types of Greenhouse Equipment?
Greenhouse equipment is a broad term covering almost any type of gear or equipment that is used in greenhouses for maintaining optimum conditions, caring for the plants and maintaining the greenhouse itself. The term includes supplies for this purpose as well. Equipment for watering, lighting, heating and ventilation as well as items like pots, growing media and fertilizers are all used in greenhouses. Some greenhouses also employ hydroponic growing equipment.
Ventilation is very important in greenhouses, and while some greenhouses may be ventilated by rising warm air, most greenhouses rely on active ventilation. Fans are, of course, the most common type of greenhouse equipment used for ventilation. They can be used to circulate the air inside a greenhouse or they can be used to exchange outside air for air inside the greenhouse. Automatic or manual vent openers can help ventilate the greenhouse as well.
Another important type of greenhouse equipment is watering equipment. In its simplest form, it can be something as basic as a watering can or garden hose. Some greenhouses use sophisticated watering systems, consisting of sprinklers mounted in the beds or overhead or drip systems. Timers are sometimes used to regulate the frequency and duration of watering sessions.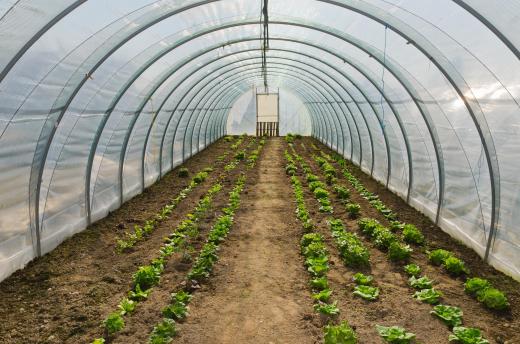 Climate control is also important in greenhouse operation. Greenhouse equipment for climate control can include heaters that operate on gas or electricity as well as thermostats to regulate the temperature. Radiant hot water heat is also sometimes used for greenhouse climate control, and sometimes heat mats are used to line shelves to provide direct heat to individual plants or beds. Humidistats are devices which measure humidity and control humidifiers or misting equipment to maintain a specific humidity level.
Growing supplies like fertilizers, pots, growing media, pesticides, fungicides and disease controls are important types of greenhouse equipment. These things help the grower maintain the plants in the greenhouse in a healthy condition, control pests and disease, and allow for everyday maintenance like repotting and propagation.
Common gardening tools like shovels, small trowels, hoses, spray bottles, chemical sprayers and even wheelbarrows are also useful greenhouse equipment. Almost any type of gear used in outdoor gardening has a place in greenhouse culture. Plastics for greenhouse repair, shading or ground cover are common greenhouse items.
Hydroponics equipment is found in many greenhouses, especially in commercial growing operations. Sophisticated water-circulation equipment is coupled with nutrient monitoring and dispensing gear to maintain an optimum concentration of nutrients in a solution distributed to the plants. The plants themselves are grown in a soil-less media, such as gravel, rock wool, vermiculite or even sand. All the nutrients are provided by the nutrient solution rather than by soil.
AS FEATURED ON:
AS FEATURED ON:

By: ilyashapovalov

Green house equipment can include anything needed to operate a greenhouse and grow plants inside, such as fans, irrigation systems, growing pots, shovels and fertilizer.

By: PHOTOERICK

Plastic sheeting for repair and groundcover is a common type of greenhouse equipment.