What is Greenhouse Staging?
Greenhouse staging is the process of strategically placing plants in the most beneficial locations within the structure. The primary purpose of greenhouse staging is to optimize the growing conditions for different plant types in various stages of growth. Greenhouse staging is accomplished mainly through the use of aluminum and wooden benches. These benches can be single- or multi-tiered and some are designed for special applications. Greenhouse staging fixtures may be collapsible for temporary use or rigid for permanent installations.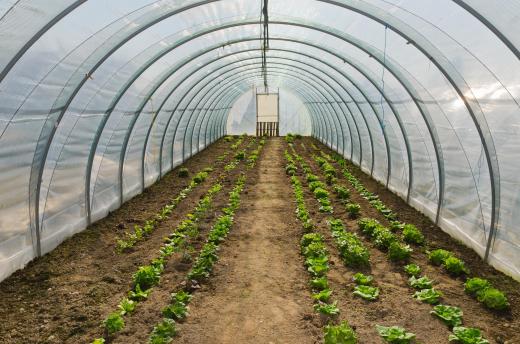 Greenhouse staging provides the optimum conditions for plant growth. The basic principle is to allow plants to be placed in the most advantageous location within the greenhouse without increasing the overall size of the structure. Plants that require full sunlight are usually placed at the top of the staging while shade plants typically occupy the lower portion. Greenhouse staging can be used for watering and draining purposes as well. Specialized capillary material can be combined with staging to provide a continuous supply of moisture to young plants.
Aluminum and wooden benches are typically used for greenhouse staging. Lightweight aluminum benches are chosen for most portable staging applications. Specially coated wooden benches are often installed as permanent form of staging. Many gardeners prefer aluminum fixtures for their long-lasting and water-resistant finish. Others choose the wooden varieties for their aesthetic value.
Another objective of greenhouse staging is to increase the amount of surface space within the structure. Both wooden and aluminum staging benches are available with one to three tiers to provide additional surface area. Multi-tiered benches are sometimes equipped with adjustable shelves to accommodate different plant heights. Some benches also have storage areas at the bottom for gardening tools and supplies. Both aluminum and wooden fixtures are available in different designs and colors.
Some staging fixtures are designed for special uses. Hanging benches are used when leg supports are not practical. Free-standing fixtures are a popular choice for special growing projects. Many staging benches feature removable trays for easier springtime transplanting. These removable trays are sometimes sectioned to prevent plant roots from becoming entangled. Other varieties are slotted to promote better airflow and water drainage.
Staging fixtures may be portable or permanent depending on the frequency of use. Some greenhouses are too small for permanently installed benches. Collapsible, temporary benches are designed to be easily set up and taken down. These temporary fixtures are intended for gardeners who utilize staging infrequently. Rigid staging benches are designed for permanent installation and are not easily removed from the greenhouse.


By: ilyashapovalov

Greenhouse staging is the placement of plants inside a greenshouse so they will most successfully grow.

By: PHOTOERICK

Staging a greenhouse properly allows more space for plants, and it also encourages the plants to thrive.